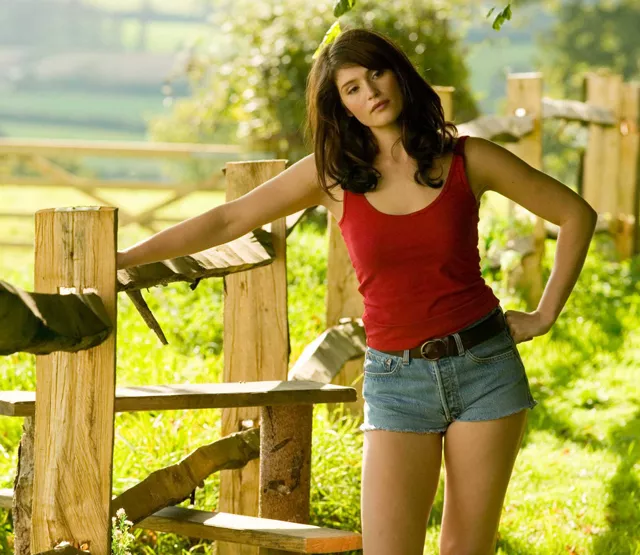 For a little while there, it seemed like Stephen Frears' Tamara Drewe might actually have something to say about the rampant self-absorption of writers. Set at a bucolic writer's colony in the English countryside, struggling wordsmiths sip tea, eat pastries, and take in the livestock as they labor over their manuscripts. A budding romance novelist, an academic obsessed with Thomas Hardy (Bill Camp), a lesbian pulpist and others have gathered at the farm of famed crime fiction novelist Nicholas Hardiment (Roger Allam), a pompous asshole who serially cheats on his doormat-of-a-wife, Beth (Tamsan Greig). Domestic fireworks explode between the two, and the "guests" are treated to the kind of melodrama found in the books they know all too well.
But just as you get your hopes up that the literary class will be deservedly skewered, they're dashed on the rocks of a screwball romantic comedy that seems so convinced of its high-brow pedigree that it forgets to be funny — or romantic. It is, however, eminently watchable. Frears (The Grifters, High Fidelity) is too masterful a director to let the pace flag, and the cast, though some actors seem unsure of where to pitch their emotions, is consistently engaging.
An update of Hardy's Far From the Madding Crowd, and an adaptation of Posy Simmonds' graphic novel Tamara Drewe, the film's scattershot plotting soon introduces us to its title character (Gemma Arterton), a London web columnist who has returned to her neighboring estate to ready it for sale and ends up inflaming all the men she crosses paths with. See, once upon a time, Tamara was an ugly duckling of sorts, with a big beak and bigger libido. All grown up and sporting a pert little nose job, she's become a saucy temptress, filling her bare-chested old boyfriend Andy (Luke Evans) and narcissistic Nicholas with deep longing. Throw into the mix a pretty-boy indie rock star (Dominic Cooper) and a pair of troublemaking schoolgirls and, well, complications ensue.
Even so, the film never seems to be in much of a hurry to straighten things out. Less an examination of warring desires and more a lighthearted and unfocused farce (with an awkwardly dark finale), Tamara Drewe superficially modernizes Hardy while missing what made his work interesting. Class distinctions are barely acknowledged, and whatever satirical ideas Simmonds has about the state of marriage or the role of literature in our pop culture-fueled world is lost amid the cartoonish plot contrivances and meandering narrative. More tragically, Tamara is a pretty bland (and utterly self-obsessed) object of desire, upstaged by her conniving teenage rival Jody, who probably would have made a better protagonist.
Frears does a nice job of re-creating the pictorial style of the graphic novel, and his nimbleness keeps things moving. Unfortunately, his persistently breezy approach to the material not only robs it of the little subtext it has, but fails to set up the third act's turn into the darkly ironic. Unable to muster tears or sardonic laughs, its off-key stumble toward a conclusion only makes clear how little was ever at stake. By the film's end we simply don't care if Tamara ends up with Andy. Button nose and cut-off shorts or not, the guy could do a whole lot better.
Opens Friday, Nov. 12, at the Main Art Theatre, 118 N. Main St., Royal Oak; 248-263-2111.