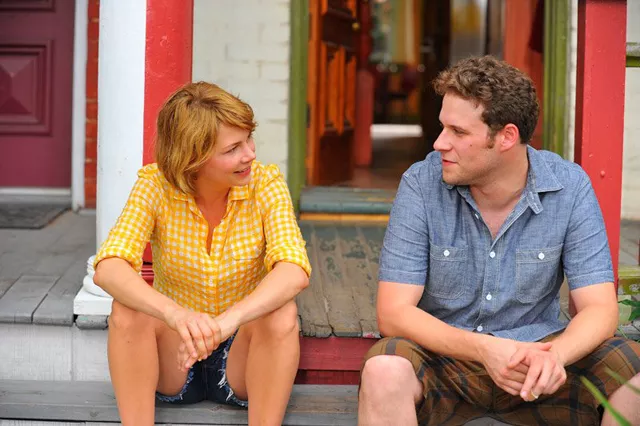 Take This Waltz| A-
I might be going out on a limb here, but no movie has ever made better use of the Buggles' "Video Killed The Radio Star" than Sarah Polley's Take This Waltz. The scene, probably the best in the movie, is set on the Scrambler ride at a Toronto amusement park. Margot (Michelle Williams) and Daniel (Luke Kirby) are will-they-won't-they lovers, whipping and whirling around, as the music, lights and motion amplify the giddy lovesick blur of their infatuation. But just as the song and their delight takes flight, the ride stops, the music is cut short, the lights come up, and a fat guy ushers them off the Scrambler. It feels like a punch to the stomach. Romance is like that sometimes. Especially when you're married to someone else.
Sadly, Margot has become numb to the gentle routine of her five-year marriage to Lou (Seth Rogen), an aspiring cookbook author. Their relationship is comfortable and playful but missing the intimacy and passion Margot craves. It's no coincidence that every meal the couple eats in their cramped but hip apartment is chicken (the focus of Lou's recipes).
While on a business trip, Margot meets and casually flirts with Daniel, only to discover that the handsome rickshaw driver-artist lives on her street. When she tells him she's married he responds, "Oh, that's too bad," and the sparks between them begin to smolder. Margot loves her husband but can't help but be drawn to her hunky neighbor. Little by little, as the two get to know one another, temptation takes hold. If Lou is a comfy sofa, Daniel is a tilt-a-whirl. But one who refuses to make the first move. What will Margot do?
While Take This Waltz vibrates with romantic anticipation and sexual desire, Polley is performing a dramatic sleight-of-hand here. She has taken the tropes of Hollywood romantic-comedies (the meet-cute set-up, the oafish spouse, the melodramatic finale) and twisted them to conform to real world emotions. Love at first sight is rarely what it's cracked up to be; leaving an inattentive husband for a smitten lover brings with it genuine consequences, and everything new eventually becomes old. That last point is exquisitely illustrated as Margot and her sister-in-law Geraldine (Sarah Silverman) shower at the local gym. Young, old, pert and saggy, the naked bodies of the women in their self-defense class are displayed with a matter-of-factness that makes clear: beauty fades as the waltz of life continues.
Polley expertly navigates the emotional states of her characters, constantly surprising and challenging our expectations about who will say what and what will happen next. No one is a cliché and their reactions never feel fabricated. More significantly, Polley never judges her characters, instead she uses their longing and irrationality to reveal the illusory nature of romance.
This is especially important because, on paper, Margot is such a difficult woman to like. Beneath the dreamy, twee affectations and smiling naivete she's unmotivated, high-maintenance, quietly selfish and achingly empty. Who she ends up with isn't nearly as important as what she will do to quell the discontent that burns inside of her. In a nutshell, Margot is an adult cursed with adolescent longing, and it's Williams' uncompromising honesty and twitchy vulnerability that keeps us engaged. The actress masterfully conveys her contradictory impulses and inner turmoil as Margot struggles to push her decisions onto others. Ultimately, however, the choice (and its consequences) become hers and hers alone.
Though it's hard to compete with Williams' bravura performance, Rogen and Silverman hold their own in serious roles. Silverman gets the juiciest lines, acting as the film's acerbic and flawed moral center, while Rogen is low-key and likeable, a grown-up who still retains some of his prankish youth. Only Kirby comes off as undefined, which may be more a function of Polley's highly contrived approach to his character. Blandly handsome and gently persistent, he acts more as a mirror for Margot's desires than as a flesh-and-blood partner.
Take This Waltz has its weaknesses. Sometimes the movie goes a quirk too far, and Polley's writing can be too self-conscious, painfully veering into the literal. Not trusting the metaphorical impact of her gorgeous and savvy visuals, she too frequently forces her otherwise three-dimensional characters to explicate the movie's themes. "I have trouble with connections," Margot says early in the film. Even a walloping final monologue by Silverman, as well-written as it is, forces any and all ambiguity from the point of Polley's romantic assessment.
Still, as a bittersweet ode to the ferocity of desire and the often-devastating fallout that follows, Take This Waltz is both emotionally astute and intellectually daring. There are too few women writing and directing personal films these days, and as she demonstrated in the her exquisitely observant debut, Away With Her, Polley has an acute eye and attuned ear for characters struggling in domestic relationships. She makes films about adults who make choices, make mistakes, and, hopefully, learn about themselves in the process. I can't wait to see what she does next.