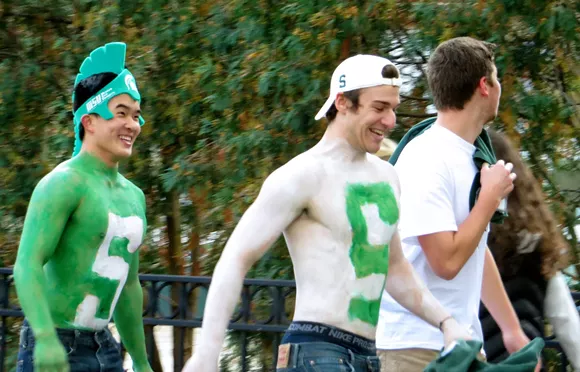 WalletHub, the personal finance website that sends us periodic "studies" to our inbox, recently conducted
a survey of the nation's best sports cities
.
They compared 423 cities across more than 50 key metrics, ranging from "performance level of the city's team(s)" to "average ticket price per game."
In overall rankings, Detroit came in a commendable No. 8. East Lansing ranked No. 28. And Ann Arbor came in No. 71.
Detroit ranked No. 1 for hockey — duh. On a list of top 10 cities for foootball fans, East Lansing ranked No. 5.
But wait — let's back up for a minute here.
How the hell do the Michigan State University Spartans beat the University of Michigan Wolverines overall — and especially for football?
Yes, the two football teams are forever locked in a fierce rivalry — one which every Michiganian is basically mandated to choose a side, even if you don't like sports generally, and especially if you attended neither school. You have to pick a side.
But no matter if you root for maize and blue or green and white, you can't deny that the Wolverines are the better football team. This year, Michigan creamed MSU 32-23.
Furthermore, in terms of sheer number of fans, the Wolverines' home is the largest stadium in the United States, and the second largest stadium in the world.
But more importantly, Wolverines fans manage (for the most part) to pull off being enthusiastic and civil. Sure, on game day in Ann Arbor, the odds are 100 percent that you'll see at least one grown-ass man decked in maize and blue — long since graduated from U-M, if he even attended the school in the first place — face-down on the sidewalk, drunk, in the middle of the goddamn day.
MSU fans, on the other hand, routinely riot, and basically need to be tear-gassed on the reg. The most recent incident happened on Dec. 8, 2013, after the Spartans beat Ohio State. Couches were lit on fire. A car was flipped.
Look at how nonchalant the dude is about his fucking car getting flipped (after someone created a crowdfunding campaign to get him a new car):
"It was just kind of a spur of the moment thing, maybe," he told
USA Today
, "but I don't think people think enough about that kind of stuff. It did kind of ruin my life a little bit and if I didn't have this fundraiser, I'd be scrambling to find a way to get another car."
Is that what you call team spirit?
We hope Wallethub factored that into their calculations.