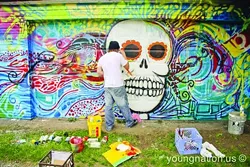 Paul Mungar is one of the artists behind the work of Reclaim Detroit, an ongoing urban sustainability and permaculture experiment located in the Jefferson Chalmers District on Detroit's East Side. The project is made with limited means and almost entirely reclaimed materials. The project includes an aquaponic fishpond, a small food forest, chickens, and art.
We popped in for a quick question and answer chat with Mungar, or as we like to call it: a Flash Q&A.

Metro Times: What inspires your work?
Paul Mungar: Currently inspiration comes from Nature and my surroundings here in Detroit. As a child much of what inspired me was from escaping a half burned down crack and crime ridden neighborhood by going and seeing the work of Tyree Guyton and random escapes to the DIA. To this day Rivera Court remains one of my favorite works in the world and I have life goal of establishing the grit required to be a true folk artist by my work as a gardener.
Hopefully, by my 44th birthday will painting a collaborative socially impacting mural of permanence. Secondly I am very inspired by my peers and acquaintances, especially other Detroit artists, gardeners and activists.
Reclaiming is a central theme these days. I love painting, but mixing colors is for children to learn. As mature artists-craftsmen, I think we must look deeper for more than conceptual meaning in our work but purpose, there will always be a need for new revolution. This takes place in the life of the young artist, messages to challenge the system, provoke thought, but I am mainly inspired to make things better, to make every environment I leave more pleasing to the life that inhabits it

MT: How did you learn your craft? Are you self-taught or did you receive a formal art education?
Mungar: I started drawing all day on recycled papers from the Old Children's Protective Services office downtown where, in my grandmother's late life, [she] served. I was babysat at the office. I would draw all day as a child; my mom would visit whilst taking a break from working the corridor for heroin, she would take my sister and I to the public library where would get origami and Japanese paper carving books. At about 15, I started working with my long lost father at Ramsay Collision. I explored making sculpture out of reclaim auto parts and finishes for a while and sand blasted murals on glass I trash-picked.
I kept a sketchbook from early childhood until I was 19 and discovered painting; practically gave up drawing for painting. At 19, I got into Macomb Community College. I wept when I got a letter saying I would get a Pell grant and able to go to college. I was always very scholarly, but very troubled in school; thought I would never make it to college because we were very poor.
I also attended Wayne State but never finished as I became a successful self-employed graphic-web-flash-multimedia designer for a few years.
When I ran away at 17, I also lived in California where I frequented Insomnia a cafe on Ventura Boulevard, near L.A. I would draw with professional cartoonists who were schooling me.A great part of my arts education has also been handling art with Matthew Hanna here in Detroit for over 10 years.

MT: What materials do you prefer to work with and why?
Mungar: Straight up — I prefer using hard-to-use reclaim materials because they need to be used for something, and this is an opportunity to prove one's creativity. I do not think I have mastered this art yet, many others are years ahead of me in this vein. I will always love paint because of fluidity. Paint is like liquid poetry of the most articulate nature. I just try to refrain from the instant gratification of painting a surface. I only paint on reclaim materials. I spend more time preparing them then painting on them.

MT: Do you have any upcoming shows or projects you're working on?
Mungar: Last year I gave up painting for money or cash, but I am always called out for causes. The showing of work is daily here at 2526 Newport [in Detroit]. My primary work is my homestead. My work is only slightly for the satisfaction of ego, but more for my continued psychological well being, by making a difference where I can — in my neighborhood.
I randomly participate in shows, because of request, but I never promote —and hardly attend openings anymore. If I were to abandon the work I have here for a moment —months of work making an artful garden would be extinguished.

For more info on Paul Mungar's work and Reclaim Detroit, check out facebook.com/GhettoHipP and facebook.com/ReclaimDetroit.
Katherine Montalto is web editor at Metro Times. Send comments to [email protected]