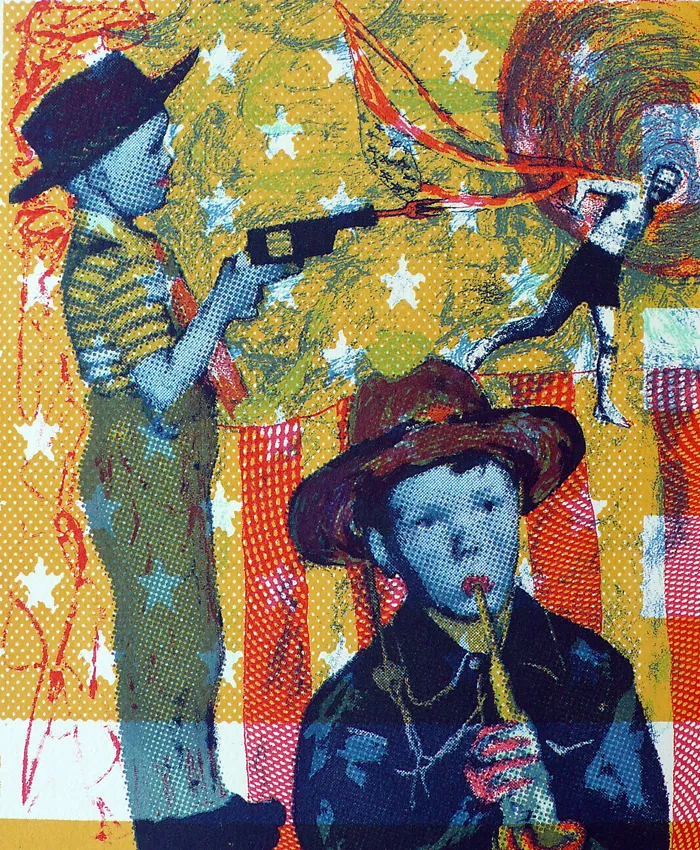 At first glance, the works of artist Alexander Buzzalini seem sunny and cheerful. There's imagery of smiling, happy notions of Americana — little boys dressed as cowboys, women in swimsuits, Coca-Cola. But look at them long enough, and an unsettling feeling creeps in, given the unnatural color palettes and chaotic, naively drawn elements.
That's exactly what Buzzalini wants. "It's kind of about this happy face that is pasted on everyday life," he explains. "Like, everyone should be happy, based on Western cultural American ideals. I'm interested in pulling the reality from that. Not everything is so bright and happy and fluffy, and things are a little bit darker than what mass media would suggest."
Buzzalini creates his images by combining photo collage with hand-drawn elements. Much of the vintage imagery comes from advertisements from old issues of Life magazine, which Buzzalini will cut up, rearrange, and add new elements to by hand. He unites all the disparate elements by creating mass-produced prints based on those images.
A recent graduate of Wayne State, Buzzalini has a show of works he created as an undergrad at a show at the First Floor Gallery at Paint Creek Center for the Arts, which ends this week. In the meantime, the artist is applying for residencies.
"It's a style I have been working on for the past two years," he says. "It kind of just mutated out of certain interests. I did a lot of collaging and painting — I started using screen-printing as a way to pull it all together. It was a slow mutation."
Alexander Buzzalini: Prints runs until Friday, Feb. 14 at the First Floor Gallery at Paint Creek Center for the Arts, 407 Pine Street, Rochester; 248-651-4110; pccart.org.