It's prom season!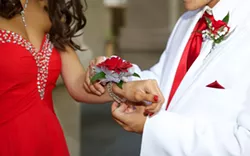 Or so we've heard. The fact that anyone not in high school pays attention to prom is weird to me, and yet on this morning on
WDET'S Detroit Today
, countless adults called in to share what their prom song was and reminisce about dances past, which
who remembers that
? Okay fine, I'm just bitter my prom was in a shitty gym with a PS2 playing the music. ANYWAY.
One thing that I definitely don't remember are these 'promposals' that seem to be everywhere. During a vacation this past week, I witnessed one happen during a high school band concert (yes that's what I did on vacation, don't ask), where an awkward young man asked his adorable awkward girlfriend to prom complete with live music and an audience of a few hundred people. She said yes, if you're wondering.
And today, the Detroit Institute of Arts tweeted out this photo of another happy couple post-promposal.
With a little help from the DIA, this visitor used to power of art to "prompose" to his date in Prentis Court. pic.twitter.com/aPX6x0qaXx

— Detroit Inst of Arts (@DIADetroit) May 26, 2016
Which again, adorable.
I'm not going to focus on how creeped out I am by these pseudo-wedding proposals (can we chill on the matrimony?), but rather say kudos for anyone brave enough to make a such a public display of affection and desire. And also, I hope you all get laid. Safely. Wear condoms!