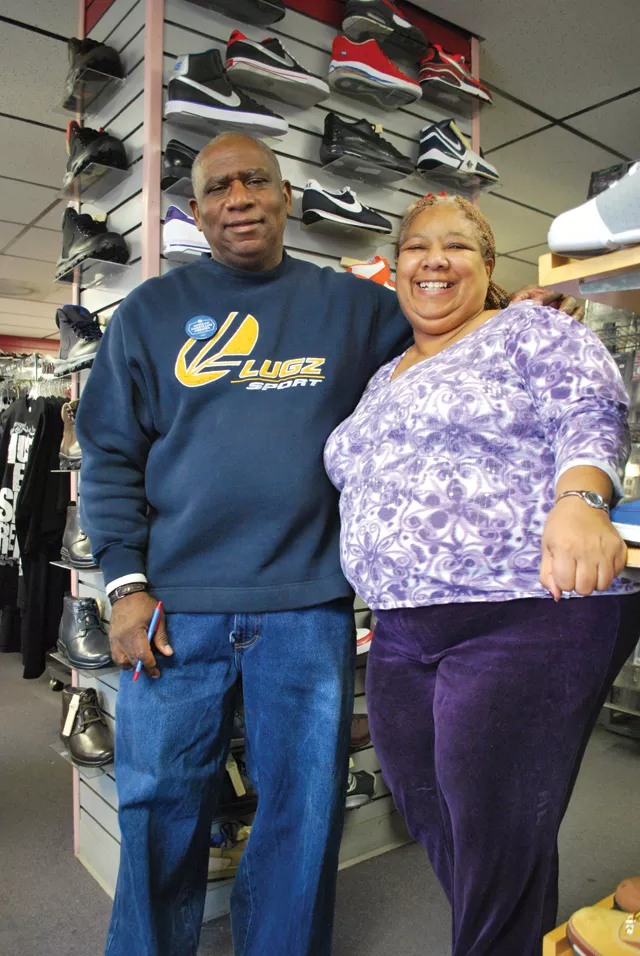 Barry Beal just doesn't give up.
He didn't give up when thieves broke into his store and stole nearly every single thing inside, plunging him into bankruptcy. He didn't give up after the big box stores started offering the same things he sells, but cheaper. And he didn't give up on the neighborhood he's in even as it vanished from around him.
His store, Shantinique Music and Sportswear, sits on a stretch of Harper that passes along blocks of grassy fields. It's very different now here than when he started, back when a thousand 45s of a new hit would sell in a single day, when the blocks around him were filled with kids eager to buy what the Billboard charts said was hot. Back when there was a neighborhood.
"Now there's like two houses on every block, or five houses on every block," the 59-year-old says. "It's a big difference."
If it weren't for his regular customers, he might be gone by now. Out here, in this east side neighborhood, where just about every little family business has moved or closed, the fact that Beal has stayed through the area's collapse has earned him a diehard loyalty.
"We're 'Moms' and 'Pop' and 'Auntie,'" says Beal's wife, Josie, 57, who works the front counter and whose middle name became the store's name when it opened decades ago. "In the neighborhood it's a term of endearment, like respect. They respect that you've been here for 30 years. You've watched them grow up, you're watching their kids grow up. If you're in the neighborhood they kind of have a different respect for you than somebody that came from outside of the neighborhood."
Still, the couple has had to furiously adapt to unwelcome changes to keep the store alive. When CDs began going the way of eight-track tapes, Beal added shoes and clothes to give his customers a reason to keep coming in. When massive chain stores started undercutting little independents like him, he poured his energy into customer service — remembering people's first names, asking about their families, walking them to an aisle instead of pointing in answer to a question. When the recession hit and profits plummeted, he cut back on purchases, let his bookkeepers go and took on the accounting himself just to make sure he could still keep the eight people he employs.
He's approaching retirement age, and it's been hard just to break even lately. But he can't just close the store, he says, because doing so affects not only him and his family, not only the neighborhood and his customers.
"I got peoples, too" he says. "I got one guy that's been working for me for 30 years. When I first started out it was like I was doing it for my kids and my grandkids, and then all of them grew up and I done grew past that. Now it's the peoples."
This store's long presence here signifies that not everyone has given up on this neighborhood, that someone still thinks there's life here, that the people who live out here deserve a decent local store that sells actual things.
"They've been there for years," says Wayne Neeley, 43, who lives two blocks and several fields over from the store. "And it's been great for the community."
Beal never planned on owning his own store. He had a succession of good city jobs — water department, lighting department, sanitation — but got roped into the record business by an overeager cousin. "I was just out partying with him one night, and he floated the idea about opening a record store," Beal says. 
The cousin was big on ideas but short on money. That's why he needed Beal, who borrowed $750 from his credit union to get the two of them started. He put $100 toward the first month's rent and used the rest to buy stacks of 45s. But their partnership didn't last long.
"To me he wasn't in it for the business part," Beal says. "I was doing all the business part and he was looking for all the glory. He would bring the girls to it at night and show them his store and show them how much money we made, and I'd be grinding there all day, building a business."
The final straw was one Christmas Eve, when one of the cousin's girlfriends caught him with another woman and kicked out every single one of the storefront's windows in anger. "The busiest day of the year!" Beal says. "That's when I split the partnership. I'm like, 'I can't take it. You're never here and your girlfriends are getting mad, tearing the place up. It's time to move on.'"
He started over, and soon brought his new wife on board. It remained the little neighborhood record store until he went to his first national music convention in Florida, and his ambition was ignited.
"I was down there with my one store, and everybody else had 50 stores, 60 stores. I'm like, wow. It really opened my eyes." He came home and quit his day job so he could create his own chain. "I realized I wasn't in a $10 business, I was in a $100 million business, and so it changed my whole outlook. I decided it's my life. Either I sink or swim."
He began opening satellite stores, at one point operating four at once. But the industry began radically changing, as did the city's economy, and record stores around town started dying off by the dozen. Beal fought a similar demise by adding other offerings he knew would be popular in the neighborhood — sneakers, jackets, clothing brands popularized by hip-hop stars. 
But it's still been a hard challenge. Companies like Nike, he says, have exclusive contracts with national chains like Foot Locker to supply them with the latest, hottest shoes, and he's not allowed to sell them until months later, when they've gone stale in popularity. So he has to tell customers with cash in their hands that, no, he doesn't have the Kanye West's Air Yeezy II that they're looking for, or the Air Force Ones. 
He faces the same problem with music companies. "They give me a CD with eight songs on it, and give Target the same CD with 12 songs on it, plus a DVD! And Target can sell the CD cheaper." 
That new retail landscape — more than the emptying of the neighborhood, the tanking of the economy, the struggles of the city — is what make him and stores like his endangered, he says.
"It's big businesses that keep the small business from growing and from surviving with the way they do business," he says. "You're not allowed to compete."
But he's still got something they don't offer, and wouldn't be able to earn.
"Do you need any help with anything," Josie asks a customer in a sweet voice on a Friday afternoon. The tall, lanky kid is browsing the clothes, and declines politely, as if his aunt had asked him. "Just let me know if you do," she replies.
Meanwhile, Beal is in the back room, about to head over to the other store on Warren. A new employee has been hired, and he wants to go there, blend in among the clothes and watch to see if she's good with the customers. Doesn't matter how much she knows about music, or clothes or sneakers. If she doesn't treat customers the way its done here, it's not going to work out.
Neeley, a longtime customer who grew up within sight of the store, mentions the barbeques that Josie throws for the neighborhood, the discounts she gives to some of the kids from the blocks, the respect they show the customers. "You can go there and shop and get clothes and CDs, and it's not a thing where you go in there and people are just gonna watch you to see if you steal."
It's not like that at the big box chain stores, he notes. They don't throw neighborhood barbecues, or bring stars like Lupe Fiasco and T.I. to a little record store in a forgotten neighborhood.  And they definitely don't know your name, or tell you to say hi to your mom for them.
"That's key to a small business like this," Beal says. "That's the only thing we got over a Wal-Mart or a Best Buy, is that service. It's key that you take care of your customers good, and that's what keeps them coming back. You take care of them."
Detroitblogger John is John Carlisle. Send comments to him at [email protected]