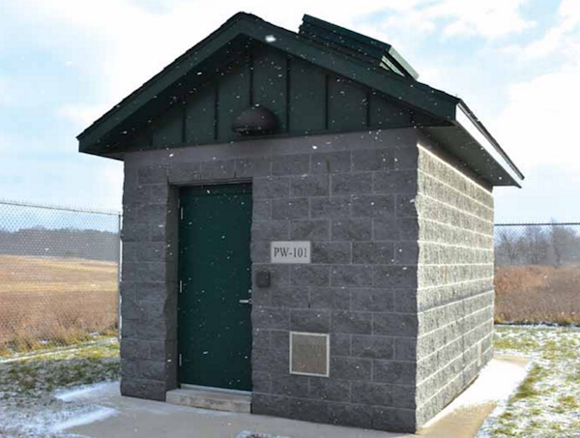 Two state representatives say they'll introduce a resolution opposing approval of Nestlé Waters North America's plans to withdraw tens of millions of more gallons of water from Michigan.
The resolution, to be introduced by state Reps. Terry J. Sabo (D-Muskegon) and Robert Wittenberg (D-Oak Park), urges Gov. Rick Snyder and the Michigan Department of Environmental Quality (MDEQ) to reject Nestlé Waters' request to increase the amount of water pumped out of the ground at their PW 101 well north of Evart in Osceola Township. For this privilege, Nestlé would pay the state of Michigan $200.
That turn of events, and the controversy surrounding it, was the subject of
a Metro Times cover story a few months ago
. Environmental activists cite a host of problems with the well pumping as it is, including disappearing fish species, loss of habitat, and drawdowns in surface water flow. They also argue that the application is flawed, not just with incorrect flow data, but with incorrect control data that has water running uphill. Thanks to their efforts, MDEQ is now in the process of
seeking much more information from Nestle
.
Several weeks ago, state Democrats proposing
putting the agency under at least some civilian oversight
, given the impossibility of the agency, separated out as one of Gov. Snyder's first acts as governor, both protecting the environment and being a "partner in economic development." In fact, the agency has been plagued by bad press ever since waiting until too late to warn residents of Flint that something may not be kosher about their water.
In late February, Michigan environmentalists presented the MDEQ with a 345,000-signature petition against Nestlé at the Michigan Capitol.
One of the more surprising revelations of that story was that MDEQ seemed to sweep an unfavorable computer assessment out of the way based on 15-year-old data. That sort of handholding may not last given the scrutiny now being brought to bear on the deal.
"As legislators, it is critical that we be good stewards of our environment," says Rep. Sabo. "There is simply not enough information at this time to understand the potential impact this increase could have on our streams and wetlands. Having that kind of data is key to making an informed decision. Rejecting the application now, until more information is available, protects us all in the long run."
"Nestlé does not provide sufficient information to evaluate the full impacts of the proposed withdrawal increase," says Rep. Wittenberg. "If this is going to be done, it should be done responsibly. It is in everyone's best interests if this application is rejected until more information can be gathered."
For their part, Nestlé's representatives are standing pat that the increased pumping will cause no environmental harm. Arlene Anderson-Vincent, the natural resources manager at Nestlé's Ice Mountain facility in Stanwood, says, "We are confident in the science and in the professional scientists — both from inside and outside the company — who collect and evaluate the data. The data we submitted in our application, the additional information we provided as requested by the MDEQ, and data from the Site Specific Review demonstrates that the additional withdrawal of water is sustainable and will not cause an adverse resource impact to the environment."

The resolution is to be introduced at the next session on Wednesday, April 19.