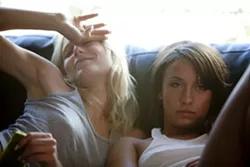 Starlet | A-
Here's a sweetly effecting, and weirdly endearing story of inter-generational friendship set against the seediest of backdrops; the San Fernando Valley. This vast expanse of mini-malls, drive-thru joints and modest stucco-walled homes, is generally well off those maps of stars homes, but it is home to the adult video industry, or at least the semi-"legitimate" parts of it.
In Starlet, one of the newest eager arrivals to the valley is the willowy, casually dismissive, yet sneakily ambitious actress Jane, played smartly by Dree Hemingway, daughter of Mariel and great-granddaughter of Ernest. She's already weary of her hard-partying nitwit roommates, whose idea of decorating is to install a stripper pole in the living room. In an attempt to dress up her depressingly blank apartment walls, she starts hitting thrift shops and the like looking for knickknacks. At a yard sale, she snags a Thermos, which she insists will make a "lovely vase." Inside is something very valuable that the original owner seems to have forgotten — but rather than simply return the contents, Jane visits the elderly woman who sold it to her and begins a stumbling, unlikely friendship. Fueled by nagging, inconvenient guilt, Jane begins hauling 85-year-old widow Sadie (fresh faced newcomer Besedka Johnson) to the grocery, the bingo hall and to the cemetery.  What begins as obligation evolves into a real and messily complicated connection.
The setup should seem contrived, but director Sean Baker lets his story unfold in a gradually expanding mesh of scenes and incidents, and leaves some subplots to thrive and some to wither, like those involving Jane's needy, slutty disaster of a friend Melissa (Stella Maeve). To reveal more of the plot is to cheat the movie of its gradual, well-earned revelations, which all come through the seductive power of the central relationship. Nonactress Johnson was gives an unmannered performance that is remarkably well-rendered and never mawkish; she fills in Sadie's unspoken sorrow in innate ways that veteran performers would struggle to achieve.
She's matched by Hemingway, who pulls off the neat trick of making her difficult character both naively sweet and cynically manipulative, an unsharpened intelligence just aching to be appreciated for something other than her gorgeous slender frame.
Starlet is consistently surprising in the way it mingles tender emotions with inherent tawdriness, casually incorporating graphic, mechanical sex scenes along with touching moments of real, much more innocent human interaction. That Jane takes away more from her complex involvement with Sadie than she does from the cheap, calculated transactions she conducts with various lowlifes is the film's message. As this low-key, intimate little indie stunner reminds us, we are always worth more than our doubts and fears allow us to believe, and sometimes it just takes an outside perspective to grab our well-earned spotlight.