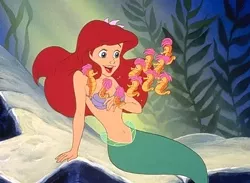 Go under the sea with Stagecrafters and enjoy classic tunes like "Kiss the Girl," "Part of your World," and more. Kryssy Becker plays Ariel, and Zachary Coates is the smarmy Prince Eric in the beautiful love story that taught us to ignore our parents and just go for it — even if it meant making an unsavory deal with a sea witch.
Fun fact: Ariel was drawn to look like actress Alyssa Milano and had red hair and a green tail because they were complementary colors.
Saturday, 9/10; Starts at 8 p.m.; 415 S. Lafayette Ave., Royal Oak; 248-541-6430; stagecrafters.org; tickets are $25.