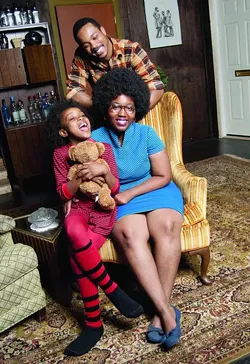 If things are as bad in Detroit as the media portray them, why do people hang on and remain? It's a question that hangs over many of the city's depopulated neighborhoods, often left unanswered and unexamined. Those asking it sometimes see stubborn residents as drains on city resources, or obstacles to ambitious redevelopment ideas. It often seems less an inquiry than an implication of irresponsibility on the part of those who haven't pulled up stakes and made room for the future.
It's also a question central to Lambert Street, a play running this week at the Hastings Street Ballroom. It depicts the Johnson family, which has lived in the same house in Detroit for a half-century. The family patriarch, Anthony Johnson, has just been laid to rest. Johnson's wife Eleanor is urged by her daughter, Jacqueline, to move in with her and her Jewish husband Jeremiah in Birmingham, but refuses. This motivates Jacqueline's son, David to move into the family home to watch Grandma, where he learns a thing or two. Through conversations with the neighborhood elders, David learns the story of not just his family but the neighborhood, the city and its struggles. The oral histories, the sense of place, the fabric of the neighborhood (as frayed as it is) still have something to offer, and that question about why people stay starts to pay off.
Playwright Aaron Timlin half-jokingly calls it "All in the Family set in modern-day Detroit," because, "A big part of the play are the issues it brings up, similar to the way All in the Family addressed those relevant political, racial, economic issues of its time."
Timlin, who grew up in outstate Michigan, was spellbound by the stories of longtime Detroiters when he moved here. He tries to bring some of those stories to life here. He says of the family matriarch, Eleanor, "She fought hard to get that house, fought discrimination to be there, and then dealt with disinvestment, so she'll be damned if she's going to leave."
A fourth act time warp sends the play back to the 1970s, when Anthony and Eleanor are helping organize Erma Henderson's successful run for Detroit City Council. Though Timlin's fictional Johnson family is drawn from real people and real experiences, the final act has characters that are like a roster of lefty 1970s Detroit, including Mike Hamlin, Ken Cockrel, Leonard Woodcock and Jessica Care Moore as Erma Henderson herself.
Ideally, Timlin hopes people come away with a better understanding of Detroit's radical legacy and why people want to remain. "It really helps me understand the frustration that people have now when big developers come in and almost take over. A lot of people don't understand: 'What's the big deal?' But when you see all the work people have done in the past to try to empower people, especially with district councils that allowed neighborhoods to decide what development they wanted, or Erma Hendrson's battle against redlining, you see the work that went in."
Lambert Street is two hours, with one intermission. Performances are at 8 p.m. June 28-29, and at 3 p.m. June 30, at the Hastings Street Ballroom, 715 E. Milwaukee St., Detroit; 313-873-2955; admission is $12. The June 30 matinee will be followed by a panel discussion hosted by CAID and the National Lawyers Guild, featuring Mike Hamlin, Ron Scott, Bill Goodman and the Rev. James L. Meyer.
Check out a slideshow of some Lambert Street action here.