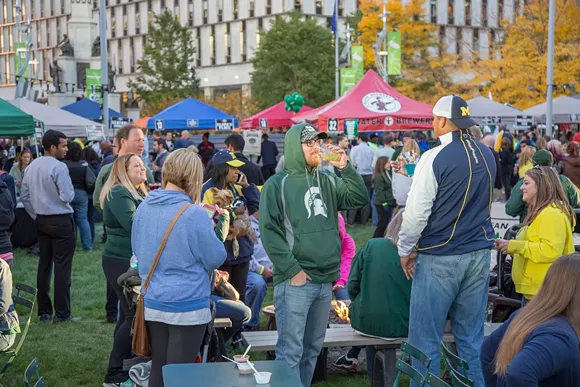 All Spartan and Wolverine fans are invited downtown to come together and battle it out in epic Anchorman style, *cough* *cough* I mean, celebrate the rivalry and support Michigan State University and the University of Michigan during an after-work tailgate Wednesday, Oct. 26.
The Big Game Detroit Tailgate Party takes place place in Cadillac Square and Campus Martius Park, and runs from at 5-9 p.m. on the 26th. Fans are urged to indulge in, and vote on, some of the best chili and mac 'n' cheese in the city during a 25-restaurant cook-off.
The game itself kicks off at noon on Saturday, Oct. 29 at Spartan Stadium.
Michigan and Michigan State alumni faced off in the Big Game Detroit Rally last week in Campus Martius, and for the second year in a row, the MSU team won the flag football game, according to the Downtown Detroit Partnership.
Like any tailgate, alcohol will be served. The beer garden tent in Cadillac Square will be open during the event and there will be live music from The Randy Brock Group from 7-9 p.m. Tickets can be purchased for $15 online at
biggamerallydetroit.com
or at the door for $20. Tickets include a commemorative pint glass and photo. Attendees must be 21 to enter the event.
The following restaurants are participating in the cook-off:
• Andrews on the Corner
• B Spot Burgers
• Blackfinn Ameripub
• Bogart'z
• Brown Iron Brewhouse
• Camino Real Mexican Grill
• Central Kitchen & Bar
• Cornerstone Barrel House
• Culinarian's Corner
• DeAngelo's Soul Food
• Dorsey Culinary School
• Esto's Garage
• Firehouse Pub
• Grand Trunk Pub
• Great Lakes Burger Bar
• I Luv Cheese
• LazyBones Smokehouse
• McShane's Irish Pub & Whiskey Bar
• Parks Old Style Bar-B-Q
• Side Street Diner
• Townhouse
• 24 Grille
• Wala
Sweets will come courtesy of A Serendipity Cakery.
The Big Game Detroit Tailgate and flag football game (which the MSU alumni won) are part of Quicken Loans' "Harvest Happenings" events in parks all over Downtown Detroit. Visit
downtowndetroitparks.com
for more information.