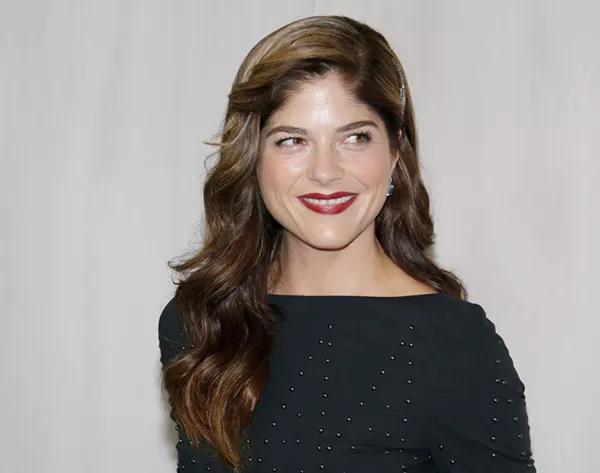 Actress Selma Blair made a stunning appearance Sunday night at Vanity Fair's annual Academy Awards soiree. Blair, a native of Southfield, Michigan, and UM alumn sent her sherbert-colored chiffon Ralph & Russo cape in the air with one hand, the other gripping a black cane. More than a bold accessory, the cane has become a necessity as Blair's Sunday night appearance marked the first since announcing her multiple sclerosis diagnosis on Instagram in mid-October of last year.

"I bought an acrylic cane that was very Miami 1980—kind of fabulous and horrible," Blair told Vanity Fair's Julie Miller in a profile published Monday. "But the problem with an acrylic cane with M.S. is that you drop the fucker. If it's acrylic, I'm like, 'Oh my God. My cane just shattered and it's everywhere.'"
Blair, 46, reveals that she had been battling a myriad of symptoms for years ranging from severe fatigue and vertigo to neck pain, weakness, and loss of motor control and that she was frequently misled by doctors who pegged her symptoms on erratic "hormones" and accused her of being dramatic. Her current 8-month-long M.S. flare-up has caused her to develop additional symptoms including spasmodic dysphonia which has limited her speech. The unpredictable and incurable autoimmune disease attacks the central nervous system and creates chaos between brain and body communication.
The disease affects 2.3 million people worldwide.

Known for her roles in
Cruel Intentions
,
Legally Blonde
,
Hell Boy
, and for her portrayal of Kris Jenner on the FX limited series
American Crime Story: The People vs. O.J. Simpson
, Blair says M.S. won't stop her from acting which includes her upcoming role on the Netflix original series
Another Life
, which remains in production.
"I don't know if I believed in myself or had the ambition before my diagnosis," Blair told
Vanity Fair
. "And oddly now I do, and I don't know if it's too late."
In the profile, Blair opened up about what she believes is her best performance of her career, what followed an eye-opening incident with Ambien, her self-described "history of sadness," as well as her disappointment in the lack of fashion options as a disabled individual. The most important takeaway from her
VF
profile, though, is her willingness to create awareness for those struggling not only with M.S. but for those who may otherwise feel invisible.
"There's no tragedy for me. I'm happy, and if I can help anyone be more comfortable in their skin, it's more than I've ever done before."
Stay on top of Detroit news and views. Sign up for our weekly issue
newsletter
delivered each Wednesday.