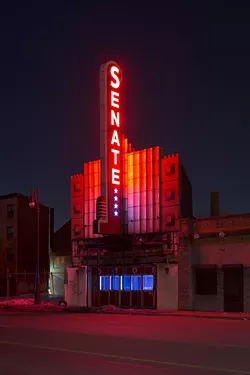 On Thursday and Friday, Southwest Detroit's Senate Theater will host Sound + Vision, a two-day film festival showing 13 films ranging from feature-length documentaries to experimental shorts.
The fest was organized by Red Bull House of Art and curated by producer Monty Luke, who says most of the films were chosen to focus on themes of music.
But Luke says beyond exposing people to a lineup of unique films, he hopes the festival will put Southwest Detroit's Senate Theater on more people's radar. "There are so many people I know, both native Detroiters and transplants, who have just never been there," Luke says. "I live about five minutes from it, and I've driven by it a million times, but I had never been inside it."
The theater, originally built in 1926, is a product of Detroit's bygone heyday —an era when just about every neighborhood had its own ornate theater. Today, Detroit has only one first-run theater, and the cinematic landscape is augmented by art house programming by the likes of the DIA's Detroit Film Theatre and Cinema Detroit — or volunteer-run, old-school theaters showing works on film like the Redford Theatre — or Southwest Detroit's Senate Theater.
"The venue is playing a huge role in this event," Luke says. "I think a lot of people will be really surprised and shocked that this theater exists right under their noses. Honestly, you walk inside there and it's like you're in a time capsule."
The theater also houses one of the the Mayan Revival Wurlitzer organ, which was originally built for the Fisher Theatre in 1928 — one of the largest Wurlitzer organs in the United States. The festival will include organ performances by members of Detroit Theater Organ Society during intermission each night.
"In this age of, 'I'm just going to watch it at home on Netflix,' I think this is going to be a really special event," Luke says.
The Senate Theater is located at 6424 Michigan Ave., Detroit; 313-894-0850
senatetheater.com
. Doors at 6 p.m.; the event is free and open to the public
with RSVP
. The full festival lineup is below.
All Of Me | 14 mins.
Viv, a talented musician, faces late stage Leukemia that threatens the life she has built. Her best hope is a bone marrow transplant from her estranged family, but reconnecting means confronting a difficult past. Directed by Daphne Schon, this film was shot with an all-female crew committed to equitable practices.

Bridge Music | 16 mins.
Classical musician Joseph Bertolozzi recorded the sounds of the Mid-Hudson Bridge in upstate New York and created what he calls, "Bridge Music," thus turning the edifice into the world's largest music instrument. This documentary short examines Bertolozzi's artistic process and the logistics involved in one of the most unique public art projects New York has ever seen. Most of the sounds within the documentary are from the bridge itself. Directed by Andrew Porter.

Tangle | 5 mins.
American Hardcore band Trash Talk toured Japan last summer and things got hectic. Filmmaker Will Myer followed the band as shows in Tokyo, Osaka, Nagoya and Enoshima melded into one incoherent night of punk rock wildness.

Sweet Play - The Island | 4 mins.
A young girl wakes up for another day in a dystopian technological nightmare. Memories of the past haunt her, but are those memories real? Written and directed by Darrell Lee Hall.

The Pittsburgh Space Station | 16 mins.
An inside look at the studio of techno producer Shawn Rudiman. Dubbed "The Pittsburgh Space Station," Rudiman's studio boasts an impressive collection of synthesizers and drum machines. This documentary takes a look at many of Rudiman's machines, but also gives a behind-the-scenes view of a the life of a grizzled electronic music producer. Produced and directed by Lindsay Mullen.

Zed's Dead - Too Young | 3 mins.
Yes, it's a cute pop song with an insightful message about social media, but it's really Belgian director Chris Ullens' stop-motion animations that bring out the true magic in this piece.

Quest | 1hr 47mins.
Filmed with vérité intimacy for nearly a decade, Quest is the moving portrait of the Rainey family living in North Philadelphia. Beginning at the dawn of the Obama presidency, Christopher "Quest" Rainey, and his wife, Christine'a "Ma Quest" raise a family while nurturing a community of hip hop artists in their home music studio. It's a safe space where all are welcome, but this creative sanctuary can't always shield them from the strife that grips their neighborhood. Epic in scope, Quest is a vivid illumination of race and class in America, and a testament to love, healing and hope. This film is the directorial debut of Jonathan Olshelfski.

Being Hear | 10 mins.
"Nature is music." Gordon Hempton is an Emmy Award winning nature sound recordist and acoustic ecologist from Joyce, Washington. For a vast majority of his life he has traveled all over the world in search of sound. In recent years, an ever increasing intrusion of noise pollution from human activity has interfered with his work. Being Hear highlights his quest to preserve silence, and the importance of listening. The film takes place on the Olympic Peninsula, the largest coniferous forest and only rainforest in the continental United States. It also features his world renowned and award-winning sound recordings. Directed and produced by Matthew Mikkleson and Palmer Morse.

Fluid Frontiers | 23 mins.
Fluid Frontiers is the fifth and final film in the series entitled The Diaspora Suite exploring director Ephraim Asili's personal relationship to the African Diaspora. Shot along the Detroit River, Fluid Frontiers explores the relationship between concepts of resistance and liberation, exemplified by the Underground Railroad, Broadside Press, and artworks of local Detroit artists. All of the poems are read from original copies of Broadside Press publications by natives of the Detroit/Windsor region, and were shot without rehearsal.

Rebirth Is Necessary | 10 mins.
Centred on blackness past, present and future, Rebirth Is Necessary is a dreamlike art film that explores the magic and dynamism of the black experience through the perspective of Jazz, Hip-Hop, Afro-futurism, African cosmologies and contemporary Black popular culture. Director Jenn Nkiru is an award winning visionary artist and director from and based in Peckham, London. Her first film En Vogue shot by Bradford Young & Arthur Jafa screened internationally to critical success.

Jab Jab | 5 mins.
Every year, thousands gather in the middle of the night on the Caribbean island of Grenada to "play Jab Jab," covered head-to-toe in motor oil as a symbol of remembrance and defiance. The directors worked with carnival organizers and locals to gain an understanding into the importance of Jab Jab, and its cultural and historical significance.

A Life In Waves | 1 hr. 14 mins.
A Life in Waves explores the life and innovations of composer and electronic music pioneer, Suzanne Ciani. From her earliest days learning the piano, to her multi-million dollar advertising ventures, to her successes in the world of New Age music, to her recent re-connection with her beloved Buchla synthesizer, the film is a journey into Suzanne's mind, offering a glimpse into the often complicated world of electronic music.

One Night In Israel | 5 mins.
In spite of a complex political landscape, a youth movement thrives in Israel. British director Yoni Lappin describes One Night In Israel as a "raw, philosophical journal" that shows the diversity and depth amongst seemingly disparate groups where skating, rapping and partying serve to unite the youth as singular outlets of self-expression.

Metronomic
Armed with this athletic and artistic group of test subjects, the goal of the project was to create an imaginative visual and sweet-sounding performance where the protagonists would, in large part, be encouraged to improvise. The musicians, little accustomed to such hair-raising exposure, dove head-first into the most extreme situations that the Flying Frenchies could imagine. The film is an intelligent mix of artists and high-flying athletes who offer the viewer a symphony of risk, an anthem to the void, and which finds its groove somewhere between performance and poetry.
Get our top picks for the best events in Detroit every Thursday morning. Sign up for our events newsletter.