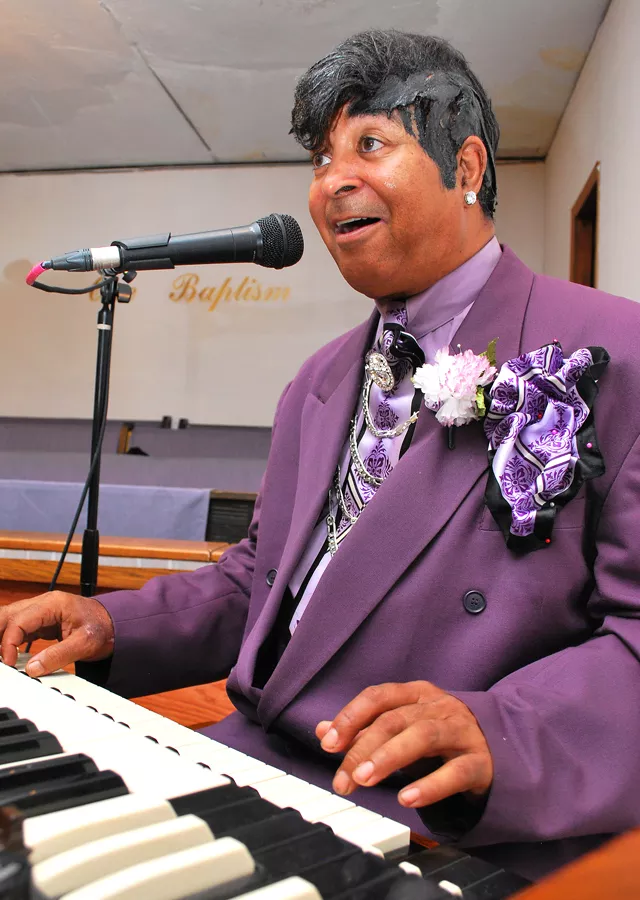 Everyone's looking at him.
James Hewlett sits in a west-side McDonald's, nursing a small bag of fries. He's drawing stares because it's early afternoon and he's dressed like he's about to hit the stage of the Apollo Theater. Fifty years ago.
"People, they ain't used to people lookin' like this," says the best-dressed man within a mile of this McDonald's. "Somebody told me yesterday, 'Why do you dress like that?' I said, "Because life is a celebration, and every day you ought to dress like it's your last day."
Hewlett, 55, is a traveling church organist and sometimes guest preacher. His look lies somewhere between Little Richard and Jackie Wilson on the rhythm-and-blues spectrum, with some of his own flair thrown on top.
Today he wears a crisp gray suit despite the sweltering summer heat. His shoes were once part of an alligator. A handkerchief spreads across his lapel, arranged in folds and held in place by pins. His tie is studded with a massive fake diamond earring, while another earring juts from his ear, held in place by Superglue because his earlobe is torn. And his hair is a magnificent cascade of waves and curves, sculpted by the same hairdresser the Temptations visited back in their heyday.
A woman approaches, wide-eyed. "I was just admiring you," she says. "I like your colors and stuff." 
Hewlett smiles big. "Yeah, I'm a motivator," he tells her in his deep, booming voice. "I have to motivate what I project. I can't tell you how to get up when I'm down." She's not sure what this means, but she likes the sound of it anyway. "Oh, that's lovely," she replies.
A few minutes later a man walks up and aims a cell phone camera in Hewlett's face. "It's for my daughter," is all he says. Hewlett obliges with a camera-ready smile that comes from years of this kind of attention.
"Wherever you go you ought to represent yourself," Hewlett says. "I mean sharp. I was at this church one Sunday, I had on this bad fur coat," he says. By bad he means totally awesome. "Ladies were just, 'Ooh, can I take your picture?' I have people stopping me on the street, in the stores, wanting to take pictures with me."
But he's more than just a visual superstar. Hewlett is a self-dubbed motivational speaker with a limitless supply of positive slogans delivered in the rhythm of a down-home sermon.
"You may be down now, but the night can't last forever," he says. "Daybreak's gotta come. You may weep for a night, but joy is coming in the morning, so you just gotta hold out and hold on. You know what I'm saying?"
Behind the sunny one-liners, though, lies a tough upbringing that sayings like this helped him get through, back when he was just a child reading self-help books late at night, memorizing their messages in hopes of creating a better future.
Outside, a woman waits in the long drive-through line and spots Hewlett through the window. "Who is he supposed to be?" she says. She's part astonished, part admiring. "Now he has a look."
Both his parents died when he was about 5 years old — his dad from leukemia, his mom from blood poisoning, and he was sent to live with a grandfather whose new wife used to beat the hell out of him and his six siblings. "They treated us bad," he says. "They would beat us, lock us up in the rooms. It was tough."
A woman who lived across the street was a piano teacher, and out of sheer boredom he talked his grandparents into signing him up for lessons. He became obsessed, playing every day on an old piano in the house. Half its keys didn't even work. "My brother was out there playing basketball, talking about, 'I'm gonna make it to the pros,' and I was in there banging on that raggedy piano. A lot of kids, you have to make 'em practice, but with me you didn't have to make me practice."
A high school piano teacher inspired him to pursue it as a career. But few saw his potential at the time. 
"Everyone was telling me, 'If I was you I'd go into something else,' but I was determined and I was motivated and I stuck with it. Even through the struggles I had to go through, I said if I could just make it with this music, ..."
One day he heard a TV evangelist talking about overcoming hardship. "He said, 'I don't care what's going on around you. People may let you down on the outside, but get up on the inside.' So this is what gave me a positive motivation." 
He absorbed self-help philosophy so well, wove its phrases into his speech so artfully, that he was ordained as a preacher before his 18th birthday. "We used to get up and testify all the time," he says. "They saw something in my testimony. They gave me a trial service, then I started preaching." 
Those lessons gave him his relentlessly upbeat demeanor. And since they worked for him, he figured they could work for others.
"I tell people, 'You can make it if you try.' I don't care what done happened in your life; look to be renewed. I could've made excuses — my mother and father died when I was little, I didn't have nobody to help, but you can't stay down 'cause life goes on. I don't care what happens, who died, whatever — life's gonna go on."
He taught music for 15 years in Detroit Public Schools, and still gives private piano and voice lessons at his home. He also runs his own unanchored ministry, the Joy of Living, making guest appearances at halls and churches around Detroit. His flamboyance sometimes doesn't earn him a return engagement.
"At this one church I came out, I had this bad robe on, and I had a diamond cross and I had my hair up in waves and stuff, and I stepped out the office and up to the pulpit and the whole church said, 'Whoo!' And then after I got through preaching, the deacon of this church said, 'See, I ain't got but a little hair on my head, but when you got to preaching that little hair stood up.'"
It contrasted unfavorably with the church's low-key pastor, who didn't issue another invite. "You get some playa' haters," Hewlett notes.
It's Sunday at the Calvary A.M.E. Zion Church on Detroit's west side, a modest, subdued place, with the soft purple tones of an inner-city church, and about two dozen mostly older congregants sitting politely in the pews. It's the third hour of services. And in the corner there's an organist on fire.
The preacher just stopped speaking for a time, and a Hammond organ screams to life as one traditional gospel song after another bursts out of Hewlett. "I make that thing talk," he brags. "It picks people up."
The small choir behind him rises to his intensity, and suddenly the small church has music that's bigger than the room. 
"He brings a lot of spirit," says the comparatively reserved Rev. Vernon Shaw. "He really does. And he has picked the choir up a little bit. They open up their mouth a little bit more."
Hewlett already played at another church this morning, and he's on his way to another one afterward. The rest of the week he'll be tutoring students in piano and voice. Music really did become his life, just as he dreamed.
Church wraps up, and everyone's filed out into the social hall next door, but Hewlett keeps on playing and singing, as his jewelry and his hair sparkle under the bright church lights. He looks and behaves like some kind of star, and in a way that makes him one around here. Because wherever he goes, strangers will treat him like one based on how he stands out.
"I'm in this music thing and I want to live to the full totality of it," he says, as his fingers still work the keyboard. "A musician is supposed to stand out. I could be a normal person, but it ain't that interesting."