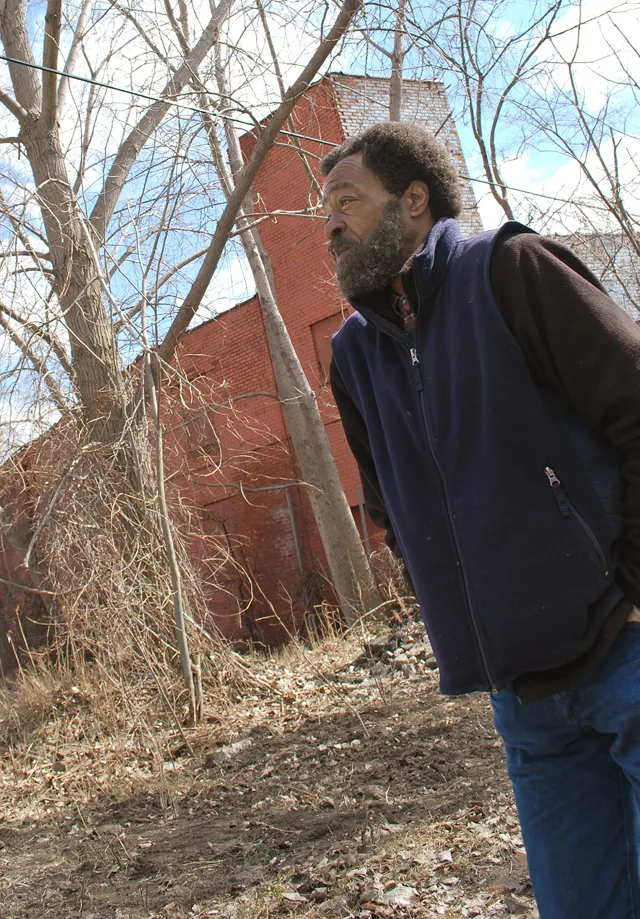 It's another spring morning in Tom Bell's backyard. Birds whistle from the bare branches above, squirrels jump through the crispy leaves below, and another day of being alone, another day of nothingness, lies ahead.
Bell is homeless, but only in the official sense. Because when he found this place a decade ago, he made it a real home.
He lives by the river in a tent he pitched atop a tall concrete mound, so high you'd never see him up there if you weren't looking for him.
"I have no phone, no address, no identity either," says the 56-year-old Bell, who's thin, with a shabby beard and a helmet of hair flecked with gray.
His hidden perch is next to a potholed alley, surrounded by a strand of clustered trees and a row of old warehouses left empty years ago. It's a neglected, forgotten corner of the city, one where he can live undisturbed by little else but the sounds of the weather and the animals that share his space. Yet rising from the horizon, just a handful of streets away, are downtown's towering skyscrapers. Bell has managed to find nature's serenity in the heart of the city.
Ten years ago he was living under a freeway overpass. Then, in his wanderings, he came across this mammoth concrete embankment, the remains of an ancient elevated railroad track. He climbed a tree to peek up top, surveyed the strange landscape he found there and decided this was the place for him.
"This is one of the best homeless spots I've ever seen," he says. He went from living in the shadows to basking in the sun, in a world all to himself. And with his find, he claimed one of the most extraordinary places to live a most extraordinary life.
He has no past to dwell on, no future to plan, no job to go to. For him, time is meaningless. The days blend into weeks that become years of sameness, and every moment is the pure essence of now.
"Man, everything's everything," he says. "Ain't nothin' changes. The sun go up, the sun go down. The sun go up, the sun go down. It's what they call just a regular day in the neighborhood."

Bell has been homeless since he was 18 years old. That's almost four decades now. That's most of a lifetime spent living on the streets of Detroit.
"I tried to pay rent, always fell behind payin' rent," he explains. "Never could keep a constant job, never could keep a permanent address, so all that accounts for being relatively known as homeless."
Bell grew up on the west side, he says. But he doesn't like to talk about his life much. He went to high school, but says little about that. Doesn't say much about his family, either. He never married.
"I might be what's known as anti-sociable," he says. "If you can't find your kind you can't find your kind. Ain't nothing wrong with that, either. Seldom seen is good, just like all-the-time seen is good. I'm one of those seldom-seen types. I'm always reserved, laid up away somewhere."
Sometimes the only living beings he encounters are the animals living in this grove. He calls them his friends. "They run up and down the trees and all that stuff, raccoons and foxes and cats and different kind of things come up around here. I bring them food to eat, you know."
Four decades outside have taught him the ways of nature and made him intimate with the weather. "I've damaged my feet, close to frostbite. I actually did get frostbit, but it wasn't to the point to where I panicked about it. Some people, man, they actually have to lose it. That ain't good at all. You find out you need your feet and hands."
All those years of experience, though, don't change the fact it's still hard to live this kind of life. He eats at soup kitchens, collects bottles and cans for the refunds, and gets everything else from the trash.
"Being homeless is serious business," he says.

Getting to his place isn't easy. His concrete hill is two-tiered, about 15 feet high. To get up top he's fashioned a series of ladder steps by nailing slats of wood between two close-standing trees that grow along the concrete wall. Once you climb those there's a braided iron cord that juts out from a crack in the concrete. You grab that to hoist yourself up to the first tier. Then you go up an old stepladder to the top of the second tier. And you're suddenly in his secret world.
He lives on a wide track of weathered old railroad ties stretching far into the distance. They've become smothered in the grasses and tall trees whose roots somehow cleaved the concrete and dug their hold deep. It's like a wild, overgrown park in the sky. "It's perfectly weird," he says.
By contrast, his home is so small he can't stand up inside it.
It's a makeshift tent that's about waist high, shaped like a triangle, made of thin plastic sheeting. He made two round windows fronted by chicken wire, and he fashioned a real wood-framed screen door that latches shut. The top of the tent is shingled with foamy material he found in the trash — one sheet of white, one sheet of black. He cut them into dozens of little semi-circles and arranged them in alternating colors, giving it the look of a quaint, miniature cottage.
Once that was done he tamed his landscape. He cleared some grasses, took down a tree or two, defined his yard from the wilds surrounding it. A little garden is guarded by a ceramic frog that watches over the plastic houseplants Bell put in the ground. A birdhouse, detailed and painted, dangles above the garden from a tall, shady tree. A painted wood bin with a hinged lid holds his food, and another smaller one holds his trash.
But his biggest decorative impact was the long mural he painted along the base of his man-made hill. One day he found several half-empty paint cans and some brushes thrown in the trash. He took them home and illuminated the plain gray concrete with a painting that's 20 feet long and 5 feet high. Split in two by a stenciled image of a chain, the top shows curled black waves against a glowing blue backdrop, while underneath are evenly spaced triangles with different odd designs painted in each. After years of hiding in plain sight, Bell decided to announce his presence here as garishly as he could.
"It was just kind of to let people know that, hey, that's where this one guy who's homeless is. That's all it really is. But I'm not an artist. These are just doodles."

It's another crisp morning. Bell stands at the foot of his hill, holding a piece of wood. He's building a new place to live at ground level. Too old to climb those makeshift ladder steps anymore, he says. And this time, his home will be tall enough for him to stand up in.
"I've been laying down at home for 10 years. I gotta try to get my standing up back where it's supposed to be," he says with a laugh.
But progress is slow. He gets lost in his thoughts easily, and will stay in place for hours, watching time unfold around him. This is the pace of his days and the rhythm of the life he's chosen.
"The kind of experience I've had with what's known as convenience or modern, I've had enough of it," he says. "I did the things I'm supposed to do in a house and, well, I don't think that's too much what I'm ready for. Being where I can have peace with myself is what I'm content with," he says. "I'd rather have peace with myself."
He stands there a long while, doing nothing but watching the river, which keeps flowing by, same today as tomorrow, just like this life.