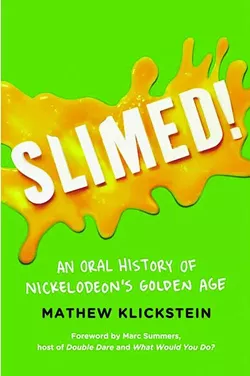 This window in time by Matthew Klickenstein pulls back the curtain of a fledgling cable TV network for kids that sneaked through the corporate drapery delightful buckets of slime and splashed them across the screen, effectively washing away preconceptions of how to engage adolescent viewers.
This history plucks the nostalgia-soaked heartstrings of anyone between ages 25 and 40; the former kids who grew up with a loud, colorful cable channel, showcasing a smorgasbord of talent: Mark Summers (like a slime-stained Soupy Sales) on Double Dare or John Kricfalusi's mad, subversive genius on Ren & Stimpy.
Melissa Joan Hart says 30 year olds have often told her they became journalists because of the witty, investigative 14-year-old lead character she played on Clarissa Explains It All. "Nick," crude but charismatic, spoke to kids in their language.
From 1986-1996, Nickelodeon became synonymous with entertaining/engaging programming for children. Years later, the big orange odyssey of subtly surreal cartoons, rambunctious game shows and frank-yet-fun teen/tween dramadies lost their envelope-pushing edge (i.e., it went corporate).
The voices captured in this fairly exhaustive survey share their side of the story. Readers may not recall (or even care about) actors from You Can't Do That on Television or Hey Dude. From this anthology, readers can piece together the minor scandals (underpaying child actors) and bitter backstabbing (reigning-in Ren & Stimpy).
Most importantly, the book allows readers to appreciate how no network in a post-Internet world could ever achieve Nick's nuanced endearment in the way they communicated with kids