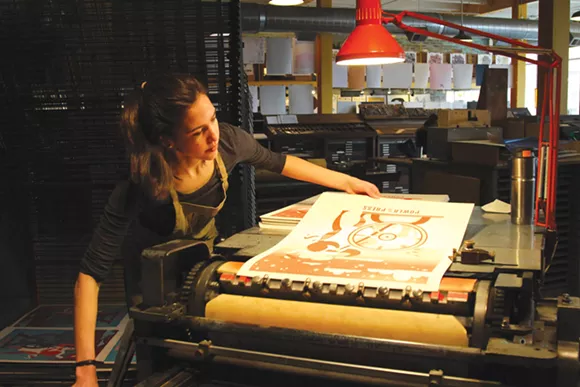 Eastern Market print shop Signal-Return is kicking off its first-ever Power of the Press Fest, a five-day festival that celebrates the power of the printed word. There's a variety of programming planned for each day, including a speaker series, exhibition openings, letterpress-printing demonstrations, workshops, and more. We caught up with Signal-Return's Lynne Avadenka to learn more.
Metro Times: What are the origins of this festival?
Lynne Avadenka: It was a Knight Arts Challenge Grant proposal. The idea was just to be expansive about the idea of print. Originally it was pretty letterpress-focused. But then we knew that there were other colleagues in town that had collaborative print shops, so we just thought, "Let's see how many people we can get involved."
MT: What was the initial pitch?
Avadenka: It was always meant to be a festival. They like those sexy titles, so the title was "Letterpress Love Fest: Type Takes Over Detroit." So that caught their eye. But we just knew it had to be more than that. Since I've been here, we've always tried to make it more expansive about connecting the printed word with the spoken word with the written word, so we wanted to do all of that in the festival as well.
MT: What kind of programming do you have?
Avadenka: We've been doing this partnership with Motor Signal, the poetry reading series. And then when I met with Cornetta Lane and Brent Smith, who are this year's curators of that series, they said, "Can we jump in on this?" And then it just grew and grew and grew. There's lots going on.
So we'll have Motor Signal, with poets talking about Flint. Thursday is a lecture at the College for Creative Studies by an artist named Lesley Dill, who has worked with language in her work as a visual artist. She's been working with Lee (Marchalonis) here to create a very beautiful letterpress-printed limited-edition prints. So on Friday, Lesley will be giving an informal talk about that work.
Friday night there are exhibitions opening here and in a number of venues across the city. We've taken an exhibition from the Type Director's Club of New York. It's their last year's winners. And then Ryan Standfest curated a show called Detroit Sequential, and that show will be here. Then the other galleries that we have here, we asked them if they would stay open with whatever show they have. So Wasserman Projects is staying open, Inner State Gallery is staying open, because our openings are from 6 p.m. to 9 p.m.
On Saturday, we have workshops that we're doing here. Amos Kennedy is doing a poster workshop here. Anne Elizabeth Moore — she's one of the Write a House recipients, and she's done comic book work, she used to write for The Onion, but she's also an investigative journalist. So she's teaching a class called "Investigative Practices 101."
On Sunday, we'll have like 48 artists who are renting tables in Shed 5 in Eastern Market. It'll be print, zines, and book art. And we'll have a table that's full of typewriters so kids can come and just bang on typewriters. The DIA will be there, and they'll be doing an all-day printmaking demo for kids.
MT: Who are some of the artists who are coming in from out of town?
Avadenka: We got Martin Mazorra, who's coming from Brooklyn. Jen Farrell is coming from Chicago. We have people coming from Colorado and California. At first we thought it would be Detroit-based. We had no idea.
MT: Anything else people should know about the festival?
Avadenka: It's mostly all free, with the exception of the workshops that people have to sign up and pay for. Everything else is free and open to the public. There's all different levels. Some people are going to be interested in hearing that lecture, and some are going to bring their kids to this demos, and some artists will want to meet other artists. So it's just meant as another way to offer something to the community, and also build community.
We also did a poster contest. So there are three winners for that, and their posters will be made for the festival. The theme was "Power of the Press." The winners were Val Fischione, Sophia Pappas, and Chris Newman. (Newman's poster) is of Martin Luther, and it says in German: "Print is power/power is print."
Power of the Press Fest is from Wednesday, April 5 to Sunday, April 9; various locations; see powerofthepressfest.org for full schedule; most events are free.