One of the great things about Michigan weather is if you think you've got it bad, it has always been worse.
It's not a lot of comfort, but as Groundhog Day approaches, and the likelihood of another six weeks of winter looms, any psychological shot in the arm helps. Maybe you survived that snowstorm a mere three years ago, when 16.7 inches fell on Detroit on Feb. 1-2, 2015. Here's a picture from the morning after: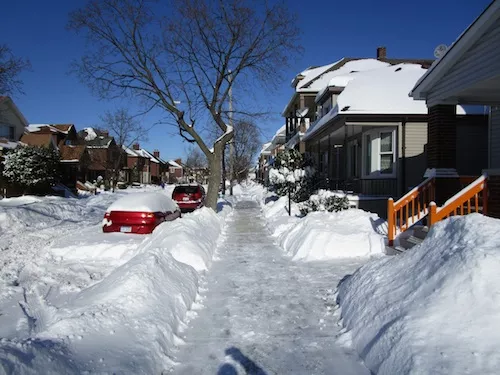 To find a similarly intense storm around Groundhog Day, though, you'd have to go some distance in the wayback machine to 1881. That's when, in a roughly 24-hour period between Jan. 31 and Feb. 1, more than a foot of snow fell on Detroit. To date, it was
the ninth-heaviest Detroit snowstorm
on record, dropping 12.5 inches of the white stuff on our fair city. If it sounds mild, consider that snow had fallen every day on Detroit for the previous two weeks, with no melt to clear it away.
And yet it must have been quite a different time, with only sidewalks to shovel, and no automobiles to dig out. In those days, the main concern was the passenger trains, which all were late arriving in Detroit, and were so overcome with snow that passengers could not leave for a few hours. As the
Free Press
reported, "Delayed or abandoned trains were the rule, and the arrival of one on time was something unexpected and extraordinary."
Yet Detroit was a smaller city with a gentler tone at that time. One resident wrote into the
Detroit Evening News
to plead for the poor sparrows with nothing to eat. "During the severe weather a flock of sparrows has daily congregated in my back yard to pick up the crumbs that have been thrown to them. This morning, being somewhat later than usual with their daily supply, I was grieved to find one of the flock had just died. Hereafter, their food will be placed for them the previous night, so that they may have an early breakfast. Let all our kind-hearted citizens do likewise." And this made it onto the front page, folks.
Another nice thing about snowy, cold days is that the crime rate usually drops. This wasn't always true back in the days where Detroiters had to arm themselves with shovels to head to the coal bin or with actual wood to fire a furnace. Take the report Feb. 1, which described John Ryan as being convicted in Police Court of striking Patrolman Schemansky. The weapon? A stick of cordwood.