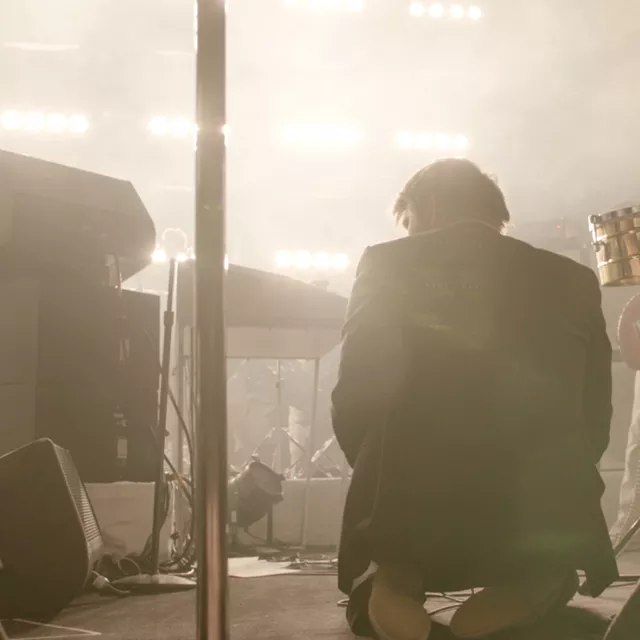 Shut Up and Play the Hits | B+
Not all bands burn out, break up or fade away. This one ... just stopped. 
The scene: This self-described "fat guy in a T-shirt," wakes up alone in bed, just eight hours after performing before tens of thousands of howling, jumping and jiving fans under laser lights. Now, drowsily, he shuffles outdoors in pajama pants waiting for his little dog to finish pissing. 
This kind of surrealism streaks throughout Shut Up and Play the Hits, equal parts concert film, music doc, and biopic, covering the final show of a band, LCD Soundsystem (which was never a traditional band), fronted by our subject, James Murphy, a DJ-producer singer-songwriter and label head who, himself, was never really a traditional rock star. At the end of LCD's final show, the bearish puppy dog-eyed "dance-punk" auteur wears an expression somewhere between terrified glee and heartbroken relief. "That was the last show," he whispers aloud in disbelief, his head dreamily resting against the van's window. 
The backstory: Ten years earlier, a handful of musicians, led by the beguiling Murphy, made a song rebelling against standoffish hipsterism they'd encountered in their days playing indie-clubs with punk bands. There was "no conception" of starting a band, Murphy reveals to musical-memoirist and journalist Chuck Klosterman via spliced-in clips of a pointedly existential interview. 
But their ostensible breakthrough, this droll eight-minute post-disco dissertation called "Losing My Edge" found fervent U.K. fans soon asking the "band" to start performing it, back in 2002. (Sample line from LCD's put-down of one-upsmanship: "I heard you have a white label of every Niagara record on German imports ... ev-a-ry seminal De-troit techno hit ...") After their 2005 eponymous debut, LCD Soundsystem essentially snowballed into a formidable experience-band: They practically reinvented dance-pop for the post-millennial generation by way of meticulously arranged albums and invigorating, large-scale live presentations. 
Essentially at the peak of their success, Murphy announced that the band was just going to stop. Their last show was scheduled; it'd be a big one, at Madison Square Garden. And that would be it. Thank you and good night. Murphy aimed "to leave a mark." No, wait, he rephrases: "... to leave a stain." 
And LCD Soundsystem's "last show" was a symphonic-sized affair, bolstered with Madison Square Garden's amplifiers and lighting rigs. The show's inherent drama was that of a dance band going for broke — and for the very last time. 
Klosterman asks Murphy if, when you start a band, do you ever imagine how it might end? Murphy's eyes glaze over.
But as the epitome of an unassuming rockstar (here, at age 43), Murphy notes he had a life "before" he ostensibly hit it big, and so Hits documents that rare chance for liberation not afforded many rockstars. 
The film should keep you music fans — ranging from 0 to 100 in measure of your LCD-familiarity — intrigued and potentially moved to groove a bit in your seats, as filmmakers Dylan Southern and Will Lovelace (with editor Mark Burnett) balance blips of insightful interviews and surreal morning-after montages with live-clips of the band's inherently entrancing and exciting brand of epic dance jams. 
Shut Up and Play the Hits screens at 7 p.m. Thursday, Dec. 13, 603 E. Liberty St., Ann Arbor; 734-668-8463; tickets $10 adults, $8 students and seniors; michigantheatre.org. Presented by 826michigan.org.