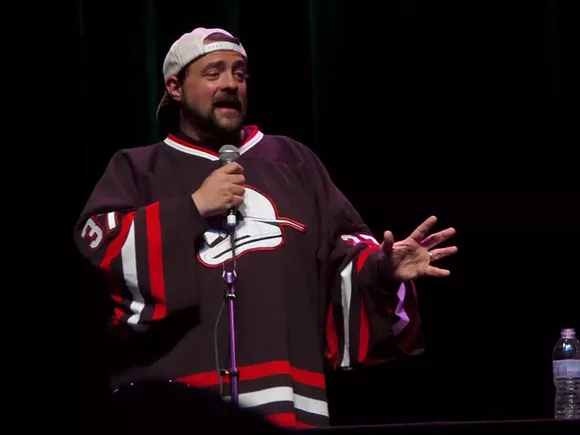 This year's
Freep Film Festival
kicked off with an appearance by a pop culture icon. Director and all-around comic geek Kevin Smith brought his podcast
Fatman on Batman
to the Fillmore for a live show that was every bit as funny as any Silent Bob fan could have hoped.
In a hockey jersey adorned with a pot-smoking stormtrooper and a backwards ball cap, Smith was in classic form. He kicked off the podcast with a shout out to Detroit, which he called a city so awesome that it was both the gritty Gotham and the shining Metropolis, before launching into talk about his recent weight loss and the sexual side effects of beet juice. Veering into the comic book and movie talk that is the heart of his podcast, Smith and co-host Marc Bernardin discussed Smith's recent experiences as a guest director on CW's series
The Flash
, rumors about the upcoming
Suicide Squad
movie, and of course the fan reaction to the
Batman v Superman
movie.
Playing to an audience clearly enthusiastic about all things comics and pop culture, Smith welcomed questions from the crowd, including an extended discussion with an extra in the
Batman v Superman
film about scenes that didn't make the theatrical cut and a comical back-and-forth with a 10-year-old boy who attended the event with his father.
It was a performance that undoubtedly earned Smith a few new listeners for his podcast, and a buzz-worthy kick off for the Freep Film Festival.