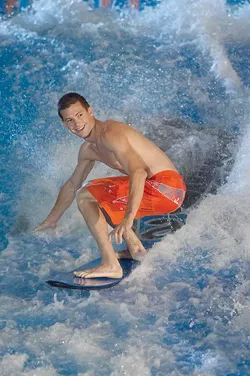 SUMMER IN SANDUSKY
Drive Time: 2.5 hours
Close enough to make a day of it, but with plenty fun-filled possibilities to fill up a weekend or more, Sandusky, Ohio, offers an assortment of good, clean adventures for all ages. Sandusky is waterpark central, but two of our favorites for chlorinated fun are Great Wolf Lodge and Kalahari Resort.
A quick 10-minute drive from each other, they are also centrally located just north of the Ohio Turnpike, making either a great base for exploring the area. Originating in the watery Wisconsin Dells, GREAT WOLF LODGE (greatwolf.com) — designed to re-create the rustic setting of the Northwoods — was Sandusky's first indoor waterpark, offering 41,000 square feet of indoor thrills.
Among the nine waterslides are two tube slides, four body slides and three kiddie pools; four pools (three indoor, one outdoor) provide more watery fun. Traveling with a group? Check out the Wolf Den Suites, an in-suite cave-themed area with bunk beds. Great Wolf Lodge is also the first national hotel chain to have all of its U.S. properties Green-Seal Certified and has its own environmental sustainability program.
Just down the street, KALAHARI RESORT (kalahariresorts.com) is America's largest indoor (173,000 square feet) and outdoor (77,000) waterparks. Also born in the Wisconsin Dells, the African-themed waterpark is packed with eight on-site dining options (including a swim-up bar), indoor cabanas and outdoor bungalows (with flat-screen TVs, refrigerators and wait-staff service) plus comfortably spacious guest rooms (many with whirlpool tubs, fireplaces and private patios) and an award-winning green initiative play up the resort experience.
Slides, geysers, raft rides, a wave pool, outdoor hot tubs and and two FlowRiders (which combine surfing, skateboarding and snowboarding on a five-foot ocean-like wave) offer watery thrills, while the Safari Outdoor Adventure Park features zip-line rides and a three-level ropes course and the Safari Adventures Animal Park offers visits with giraffe, zebra, ostrich and more. Take a break from the water at the full-service spa, indoor miniature golf, outdoor volleyball and more.
North America's second-oldest amusement park, CEDAR POINT (cedarpoint.com) opened in 1870 as a public bathing beach and the park's first roller coaster was built in 1892, standing 25-feet-tall and reaching a speed of 10 miles per hour. Today, more than 75 rides and coasters, waterparks, private beaches, children's areas, a challenge park, parasailing, lodging and more, has earned it the title "number-one amusement park on the planet" by Amusement Today. New this season: The GATEKEEPER, Cedar Point's biggest new addition since 2007's Maverick, features a 164-foot drop, six inversions and the sensation of flight over the park's main gate. Back for a second season, lifesize animatronic prehistoric creatures inhabit DINOSAURS ALIVE!, an interactive exhibit on a 4.5-acree wooded island.
Twenty minutes west of Cedar Point, the AFRICAN SAFARI WILDLIFE PARK (africansafariwildlifepark.com) in Port Clinton offers visitors up-close and personal access to giraffes, zebras, camels, alpacas and lots of other critters with drive-through and walk-through park areas. Dole out your free cup of animal food to the residents, then check out the pig races, pony rides and animal shows.
HARBOR COUNTRY
Drive Time: 3.5 Hours
Stretching along 15 glistening miles of the eastern shore of Lake Michigan, the eight charming hamlets (Sawyer, Harbert, Lakeside, Union Pier, New Buffalo, Michiana, Grand Beach and Three Oaks) that make up HARBOR COUNTRY (visitharborcountry.org) in Southwest Michigan combine to offer everything from picturesque fishing villages and white-sand beaches to high-rolling casinos (hit the slots and a taste of opulence at the FOUR WINDS CASINO RESORT; fourwindscasino.com) and sleek luxury resorts. Make your base at New Buffalo's beach-front HARBOR GRAND (harborgrand.com), a 55-room warm and comfortable take on Frank Lloyd Wright's Prairie-style design with luxury bedding, spa showers, fireplaces, indoor pool, complimentary bike rentals and 24-hour Ben & Jerry's ice cream delivery. Or check out the MARINA GRAND RESORT (marinagrandresort.com) — also in New Buffalo, and also owned by the Harbor Grand's boutique Toast Hotel Group. Modern Scandinavian design, a waterfront setting, suites with European kitchens and soaking tubs, and a DVD library "hand–selected to reflect a love for artistic and social merit, and a lust for the lack of it," the Marina Grand provides beach towels and chairs to experience the silky-sand beaches. There are also loads of inns and B&Bs to choose from.
Climb the sand dunes, stroll the wooden walkways or stop at the THIRD COAST SURF SHOP (thirdcoastsurfshop.com) to stock up on rentals before catching a wave (yes, in Michigan) at the NEW BUFFALO PUBLIC BEACH. Made up of three miles of stunning Lake Michigan shoreline and six miles of trails and dunes that tower 240 feet above the water, Sawyer's 1,952-acre WARREN DUNES STATE PARK is open for hang gliding, sand boarding, picnicing, swimming and more than 300 campsites — while you're there, climb the dunes of MOUNT RANDALL for unparalled views of both the lake and the countryside. Harbor Country offers plenty of shabby-chic and antiques shops along the quaint towns' tree-lined streets, casually elegant restaurants and comfort-food diners and summertime events.
While you're there, take a day trip (just over an hour's drive) to the area's more celebrated (and crowded) twin cities of SAUGATUCK and DOUGLAS, or pick up a self-guiding map to explore a trail of more than a dozen wineries through LAKE MICHIGAN SHORE WINE COUNTRY (lakemichiganshorewinetrail.com).
BLUE MOUNTAIN
RESORT, CANADA
Drive Time: 6 Hours
OK, this one's more of a medium haul — but oh, the payoff: Nestled on the shores of Georgian Bay and spanning across the scenic Niagara Escarpment, BLUE MOUNTAIN RESORT (bluemountain.ca) is Ontario's largest mountain village resort. A world-class mecca for skiers, snowboarders and other wintertime adventure seekers, Blue Mountain also takes great advantage of its spectactular grounds for summertime thrills.
Take a guided tour along the top of the Niagara Escarpment on a MOUNTAINTOP SEGWAY TOUR; suspend into the forest on a guide-line and glide from tree to tree on the TIMBER CHALLENGE HIGH ROPES; speed down the escarpment's varied terrain and zig-zag through the trees of the glades alongside magnificent views of Georgian Bay on the RIDGE RUNNER MOUNTAIN COASTER; Ontario's first mountain coaster, soar through the sky in the OPEN AIR GONDOLA and cool off in the indoor-outdoor pools, docks, slides, hot tubs and more of the PLUNGE! AQUATIC CENTRE; inspired by the tradition of cottage-style boathouses.
There's also a 40-acre village with shopping, dining, music and more, two on-site spas, a climbing wall, a pristine private beach, kayak and paddleboat rentals, mountain biking, tennis, catch-and-release fishing, golf (with a GPS tracking system on all carts) and, new this summer, WIND RIDER TRIPLE ZIPS, where guests can fly through the sky, reaching heights of 50 feet.
While you're there, check out the nearby SCENIC CAVES NATURE ADVENTURES (sceniccaves.com) in the Blue Mountains. Eco tours and a 420-foot suspension bridge, almost 100 feet above the valley, are offered in an area that is home to 450 million-year-old caves used by Jesuit priests in the 1600s, and who joined 8,000 Native Americans living in nine villages along the escarpment. A carving of initials in one cave is dated 1850.
Or drive 90 minutes southeast for a day trip (or longer) into TORONTO — AUC TOURS (auctours.com) offers a daily shuttle from Blue Mountain Resorts into the city.
Lynne Konstantin is a freelance writer in metro Detroit. Send comments to [email protected]