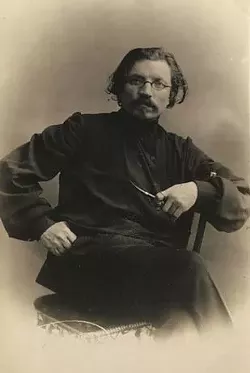 Sholem Aleichem: Laughing in the Darkness
B+
It's usually not a good sign if while watching a movie you find yourself wishing you had read the book instead — which is exactly what I started to feel halfway through Joseph Dorman's documentary about Solomon Naumovich Rabinovich (aka Sholem Aleichem).
Considering, however, that I had absolutely no desire to read the Jewish author's stories beforehand, makes clear how well Sholem Aleichem: Laughing in the Darkness does at engaging viewers, and inspiring them to seek out its subject's work.
Born a Hasidic Jew in 1859 in the Ukraine, Rabinovich's work didn't find fame until nearly 50 years after his death. Penning stories in the shtetl slang of Yiddish, he was known for tart tales that counterbalanced the tragedy and misfortunes of their characters with a wry sense of humor. His cutting wit was, more often than not, a way of coping with pain and lending perspective to the tragedies of exile for Eastern European Jews. Best known for providing the Tevye stories that inspired the 1964 Broadway mega-hit Fiddler on the Roof, ironically, Rabinovich's own attempts at theater were financial failures. The Yiddish author died in New York in 1916, unknown to wider audiences but very much a popular figure among his people. His funeral was one of the largest in New York history.
To say that you must see Dorman's erudite yet accessible film on the big screen would be stretch. It'd play just fine on public television. Filled with archival photos and talking head interviews with scholars and descendants — it doesn't exactly break new ground as a documentary. But as a primer on Sholem Aleichem's canon, it effectively piques your interest in the man who is sometimes called the Yiddish Mark Twain. (Although, given his penchant for ironic endings, O. Henry might be a more accurate comparison.) —Jeff Meyers
Opens Friday, Oct. 14, at the Landmark Main Art Theatre (118 N. Main St., Royal Oak; 248-263-2111) and the Michigan Theater (603 E. Liberty St., Ann Arbor; 734-668-8463).
Note: On Sunday, Oct. 16, Eric Lumberg of the Lenore Marwil Jewish Film Festival will introduce the 7p.m. showing at Landmark's Main Art Theatre.