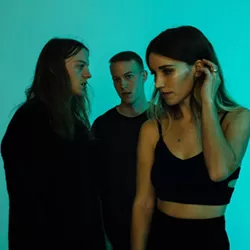 Washington, D.C.-based trio, SHAED are coming to the Majestic Theatre on Tuesday, May 2 with their EP Just Wanna See under their belts and a new album on its way.

The band — consisting of two brothers, Max and Spencer Ernst, and their friend Chelsea Lee — play what they call "colorful" music. Metro Times had a chance to speak with them about their energy and their tunes.

Metro Times: How did SHAED originally start playing music together and how/when did each of you know that you wanted to make music for a living?
Chelsea Lee: I met Max and Spencer when I was in high school. They were playing in a pop rock band in D.C. and I instantly fell in love. We became best friends and sometimes wrote songs together but were in different projects. We eventually put all of our efforts into making music together and started SHAED in March of last year.
We all grew up knowing that we wanted to make music our life. This is our passion and I wouldn't want to be following my dreams with anyone else.


MT: What's the creative energy like between the three of you when writing music?
Spencer Ernst: We're really collaborative when we write. Usually, we're dancing around a microphone in our home studio, taking turns singing melodies.

MT: Can you talk about the process for creating your upcoming album?
Max Ernst: Since we got off the tour with Marian Hill in the fall, we've been living together which is a first. For the last EP, the process involved more of Spence and I making beats and then coming together with Chels to write melodies and lyrics. Now, we're writing all of our songs together from scratch in a more stripped down format which is a nice change of pace.


MT: What are you excited about regarding tour?
Lee: Touring is an amazing opportunity to travel to new places and reach new fans. We really try to utilize this time to get to know new cities by exploring their music culture, visiting national parks, and most importantly eating incredible food.


MT: What are some of your favorite songs to perform live?
Lee: I really love singing "Just Wanna See" on stage because it seems like the audience really connects with that song. There's always a great vibe especially during the bridge.
SHAED open for Bishop Briggs at the Majestic Theatre on Tuesday, May 2; 4140 Woodward Avenue, Detroit; 313-833-9700; majesticdetroit.com; all ages; Tickets $18 Advance and $22 day of show.

Get more Detroit music news. Join our weekly event newsletter here.