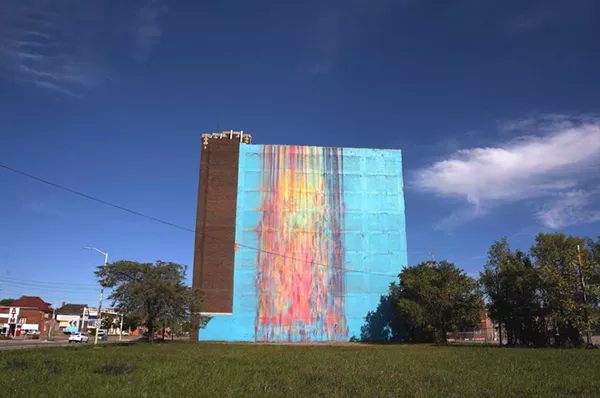 Detroit's iconic (if controversial) "Illuminated Mural" has been spared from destruction, with the artist and building owner announcing a settlement agreement to preserve the work on Thursday.
Artist Katie Craig
filed a lawsuit
against Princeton Enterprises in January 2016, seeking an injunction to bar the developer, which acquired the building the previous year, from destroying or altering the mural. The lawsuit cited the Visual Artists Rights Act, a 1990 law that expanded federal copyright to protect artwork of "recognized stature."
Craig painted the mural in 2009 at 2937 E. Grand Blvd., an Albert Kahn-designed building located in the North End, using a $33,000 grant from the College for Creative Studies. Since then, the nine-story mural had arguably become one of the most recognizable works of public art in the city.
"'The Illuminated Mural' is a significant achievement in my career, and it has received recognition nationally and internationally," Craig says in a statement. "The Visual Artists Rights Act provided me a way to ensure that the Mural is protected, and the confidential settlement that we reached honors and extends the original agreement that governed its creation."
According to the press release, the building will be sold to The Platform LLC. Per the settlement, the 100-by-150-foot mural will be incorporated in its development plans for the building.
"Today's settlement is a victory for the preservation of artists' rights," says lawyer Deepak Gupta of Gupta Wessler PLLC, in Washington, DC. "It shows that development and art can coexist. In the future, developers won't be able to ignore the law."
The mural — a splatter of rainbow colors — drew criticism when it first debuted. According to
a 2010 Metro Times feature
, one neighbor critiqued, "It doesn't have any formation ... It's just paint slid down the side of a building."