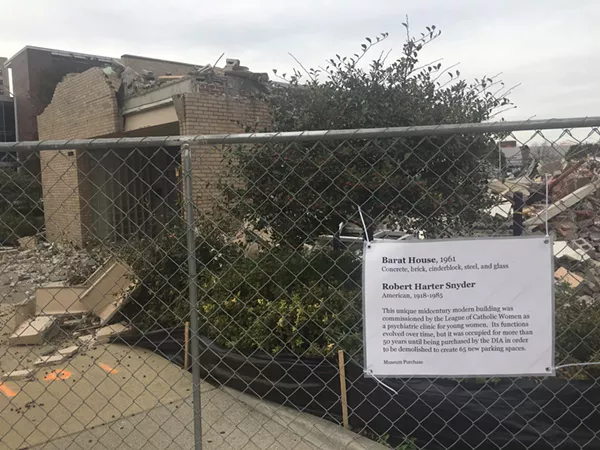 Last week, it was announced that the Detroit Institute of Arts would
soon demolish
the Barat House, a mid-century modern former psych ward for troubled girls designed by noted architect Robert H. Snyder. A DIA spokeswoman said the demo would take two weeks.
Turns out, the demolition is moving fast — by Sunday afternoon, half the building was already reduced to rubble. But a closer look at the site on Sunday revealed someone had scrambled to make a clever, barbed criticism of the demolition.
It looks like some quick-thinking prankster went to work, zip-tying a makeshift museum label done in the style of the DIA's own to the fence. It reads:
Barat House, 1961
Concrete, brick, cinderblock, steel, and glass

Robert Harter Snyder
American, 1918-1985

This unique midcentury modern building was commissioned by the League of Catholic Women as a psychiatric clinic for young women. Its functions evolved over time, but it was occupied for more than 50 years until being purchased by the DIA in order to be demolished to create 65 new parking spaces.

Museum Purchase
It's unknown who is behind the sign. (We can't help but wonder if it was artist Jerry Vile, who had previously set up 100 plastic lawn flamingos
painted as vultures
on the museum's lawn during the bankruptcy scare.)
Regardless, we have to admit it makes for some scathing postmodern art.