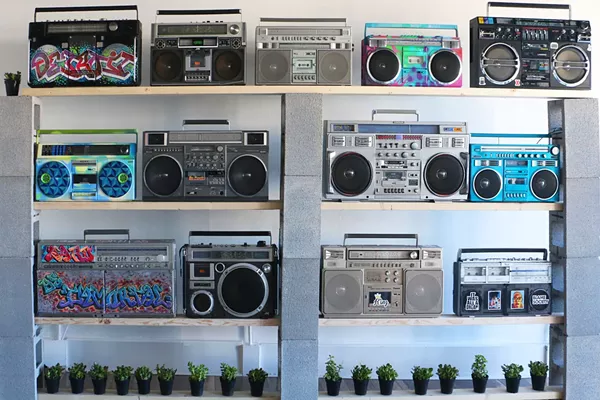 A new visual and sonic exhibition takes a look back at a blast from the past — the boombox.
Say it Loud
is now up at Detroit's The Good Lab, a new exhibition space created by Cranbrook graduate student Ash Arder. The show was put together by frequent
Metro Times
contributor Kahn Santori Davison (who is also the owner of the boomboxes).
Why boomboxes? "Boomboxes represent a time period in which when hip-hop music was just coming alive, and it was a conduit to the youth of the late '70s and early 80s to get their voice and their music heard," Davison says.
"By the late '80s,music became insular: Walkmans, CD Walkmans, iPods are all designed to block the world out, whereas a boombox was designed to bring the world in," he says. Eventually, the boombox mentality moved to loud car audio systems.
But the visual aspect is important here. Some of the boomboxes on display have been painted in graffiti, and some in car paint. "I think being from Detroit, we are all attracted to machines and design even though we never had the 'walking' culture of New York," he says. "Also, the design of today's portable electronics is very boring. It's either a rectangle, an oval, or a half-egg-shaped device with Bluetooth."
The exhibit also features a running display of stop-animation videos and prints for sale. It runs every Saturday from noon-6 p.m. through April 22.
The Good Lab is located at 14720 E. Jefferson Ave., Detroit.
Here's a video Davison sent us from the opening: