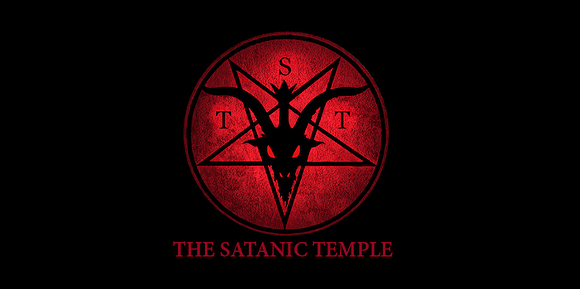 Two years ago, an out-of-state resident appealed to the Michigan State Capitol Commission, requesting a nativity scene on the Capitol Lawn. According to news reports, permission would have been granted, but the person requesting it was too far away to take down the display every night, which is apparently the rule at the Capitol. That's when state Sen. Rick Jones got involved, offering to take down the display at night and set it up each morning.
But really, the good people on the commission and even holy-rolling Sen. Jones should have known better than to approve a Christian nativity scene. When a state or local government puts up a nativity scene, it might as well send an engraved invitation to the Satanic Temple to assail the process with satire.
See, not only is that Satanic Temple averse to mixing politics and religion, when anybody tries to, the group participates, much to the chagrin of the Christians who thought mixing church and state was fine and dandy.
For instance, after Oklahoma state Rep. Mike Ritze had a 6-foot-tall monument erected to the 10 commandments outside the Oklahoma state Capitol, the temple people wanted to also install a satanic monument featuring Baphomet with two young children. The installation never occurred, because the monument was destroyed in an even more bizarre than the Baphomet saga:
On Oct. 24, 2014, a man told the Secret Service that he
"got out of his car, urinated on the monument, and then ran over it and destroyed it," and also said "Satan told him to do it."
The Michigan case has been interesting in its own right,
with a theatrical ceremony last year
, and a "Snaktivity" display, which depicts a satanic cross, a red snake, and the printed message, "The greatest gift is knowledge."
An article on MLive confirms that the Satanic Temple's display is returning to the Capitol lawn this month.
It's just an itty-bitty thing, really. Not the sort of imposing monument to Baphomet the group
has at its Salem headquarters
.
Then again, so is the nativity scene. It makes sense. If it has to be taken off the lawn every night, it has to be somewhat portable. Frankly, it's so tiny that 8-year-old children tower over Mary and Joseph, and a husky 10-year-old could probably walk away with the thing.
But it makes sense. It's really a small matter, not worth the effort it takes for Jones to fetch the display every morning and night. In fact, if Sen. Jones had let the matter die, the Satanic Temple would likely have backed off, as they did in Oklahoma. After all, they have gone on the record saying they don't like government getting involved with religious displays, and only push theirs in response to others.
But Jones is a man on a mission. In 2006, he locked horns with Gov. Jennifer Granholm over her calling a Christmas tree a "holiday tree." (Yes, folks, our legislature can't fix roads or guarantee potable water, but look at how fired up they get over Baby Jesus Day!)
Jones had told MLive
: "I'm a little outraged that a Satanic group has decided to steal a Christian holiday. As a Christian, I think it's important that we respond to this."
Forgive us for thinking that response might involve turning the other cheek.