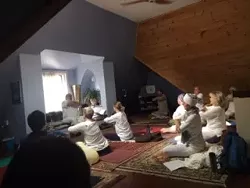 Are you stressed out — feeling like you're both ungrounded and stuck in the same place? Kundalini Yoga in Detroit has the solutions for you. This amazing home studio owned by KRI certified Kundalini Yoga instructors Mike Hendrian and Andrea Fiondo, is in the University District of Detroit, near U of D/Mercy. Once you try Kundalini Yoga, you'll really want to be a part of this community to keep waking up to your true self — this is the Yoga of Self Awareness.
The Kundalini Yoga classes are based on the teachings of Yogi Bhajan, a master of Kundalini Yoga. Each 90-minute class consists of a tuning in, a breathing technique, a set of exercises, some meditation, and deep relaxation. This powerful combination of breath work, physical movement, stimulation of the glands and energy channels and group meditation will leave you feeling clear-headed, relaxed, and uplifted. As you experience your Self during the class, you will get better control of your Self outside of class. You are re-calibrating your nervous system to be better able to meet the challenges of your daily stressful life. The practice helps you wake up to your true nature and live a life of peace and contentment.
Kundalini Yoga is a deep and varied practice. Literally thousands of kriyas are available to us, passed down from masters of the technology. The teachers professionally combine these variables to provide a unique experience for each class. It has been said that, "If you can breathe, you can do Kundalini Yoga." From 18 to 85, all humans are welcome. Do you have back, knee or shoulder issues? The exercises will be modified for you. Kundalini yoga is fairly gentle, and you can always just do as much as you can and then stop. The teachers are hands-off, and there is no judgement here. This is YOUR practice; they provide the space for your inner transformation.
Want to chill out without the hard work and sweat? Then KYD Gong Immersions are for you. You will be guided through light breath work to relax the body and mind. Then stretch out on a soft pad or mattress and let the body sleep while the mind dreams the solutions to your problems. The gongs and bowls will sing for a full hour. You arise wiser, more confident in your path, and refreshed.
KYD also offers Yin Yoga, intensives, workshops, and special events. The events are led by experts in their particular field. KYD recently hosted Gurucharan Singh Khalsa and will host Ravi Singh for a workshop and 200 hr./300 hr. Kundalini Yoga Teacher Training in 2020.
Join the Kundalini Yoga in Detroit community today! kundaliniyogadetroit.com