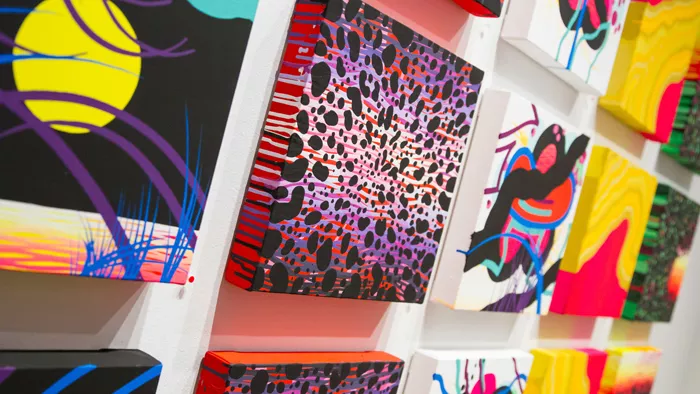 CANVAS: IMPERFECT PAIRS Popps Packing in Hamtramck asked 50 artists to construct half of a sculpture based off a provided template, then matched the pieces together to create 25 new sculptures in a new context. The show serves as a fundraiser for the nearby Popps Emporium, a house with an attached storefront located across the street that the self-funded art gallery will use to host exhibitions, performances, and artist residencies when it opens this fall. The sculptures are for sale and on display until June 14, and the gallery is open by appointment only. Popps Packing is located at 12138 St. Aubin; for more information, visit poppspacking.org.
CANVAS: THERE IS NO ONE LEFT TO BLAME Painter Steve Locke brings his first solo museum exhibit to his old hometown of Detroit following a run in Boston, where he lives now. In recent years, Locke has created a series of paintings depicting disembodied male heads cheekily sticking their tongues out — a body of work that is at once both playful and disturbing. Presented both as typical, wall-mounted paintings as well as incorporated on sculptural supports, Locke's paintings "trouble the historical propensity to image men as invariably authoritative and powerful" while evoking the guillotine of the French Revolution and the terrors of war. The paintings are on display until July 27 at the MOCAD, located at 4454 Woodward Ave., Detroit. For more information, visit mocadetroit.org.
CANVAS: I'M SHARK TOOF, WHO THE HELL ARE YOU? L.A.-based street artist Shark Toof took up residency at the 1XRUN studio to "vandalize" his signature shark icon with more innocuous (and more widely known) pop culture icons like Mickey Mouse, SpongeBob SquarePants, and Bart Simpson. Drawing from the artist's graffiti roots, the show features paintings, stencil works, and prints. As part of the residency, Shark Toof also painted a two-story mural on Division Street in nearby Eastern Market. The exhibit runs until June 16 at Inner State Gallery, 1410 Gratiot Ave., Detroit. Gallery hours are 11 a.m. to 4 p.m. Thursday through Saturday or by appointment for the rest of the week. For more information, visit innerstategallery.com.
STAGE: RHINOCEROS Eugène Ionesco's absurdist 1959 play tells the story of a small French town whose residents slowly transform into rhinoceroses. One by one, the residents succumb to this plague of "rhinoceritis" — perhaps willingly, perhaps unwillingly — until only Bérenger, the town drunk, remains. Regarded as a response to the rise of fascism that led to World War II, the play is given a new context for appreciation thanks to today's Walking Dead-fueled zombie genre craze. Rhinoceros is performed Friday and Saturday at 8 p.m. at the Abreact Performance Space, 1301 W. Lafayette, No. 133, Detroit. The performance is free; reservations at theabreact.com.
CANVAS: EASY Detroit's Library Street Collective Gallery is still hosting Easy, a collection brightly colored paintings by Brooklyn-based artist Sam Friedman until July 10. Although abstract paintings, Friedman's images evoke the natural world, calling to mind water reflections, flora, and sunsets. The Library Street Collective is located at 1260 Library St., Detroit, and is open from 11 a.m. to 3 p.m. Thursday through Saturday, or by appointment. For more information, visit lscgallery.com.