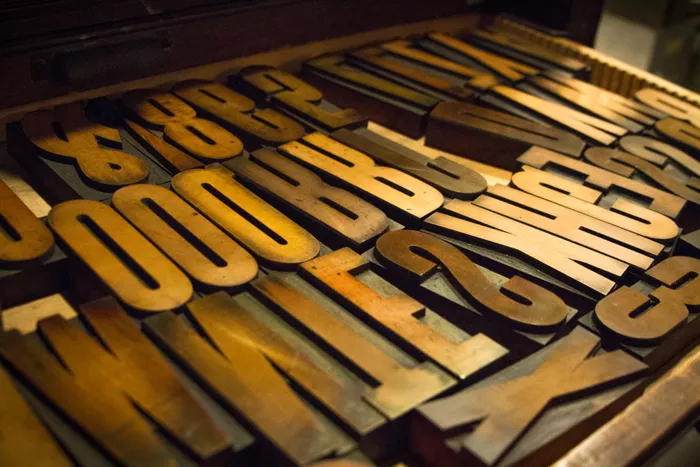 Salt & Cedar Letterpress | 2448 Riopelle Street, Detroit • 207-671-3462 • saltandcedar.com
Tucked away on the edge of Riopelle in Detroit's Eastern Market, the charming letterpress and bookshop Salt & Cedar is worth a visit, though it's only open to the public on Fridays and Saturdays. Open since May 2012, the shop uses a traditional letterpress and block lettering to create books, posters, invitations, cards, business cards, and custom orders. The front of the store provides an impressive array of small books for purchase, many of which are written by Wayne State University professors or notable local poets. Even though the books are finely crafted and beautiful, most cost between $10 and $20. They also offer handmade, real-ink posters for sale, advertising local concerts, poetry readings, and open-mic nights. The decorative posters will only set you back $15 to $25.
The middle room of the shop displays an arsenal of tools, including a fascinating letterpress machine and stacks of antique wooden type. But the back room is most enchanting, housing a library of more conventionally printed books, a space for readings and performances, a long table for classes in printmaking, and several comfy chairs.
Salt & Cedar proprietors Megan O'Connell and Leon Johnson will custom-design orders for any occasion, and they also offer book-restoration services. All their prices are reasonable, especially considering the quality of the work. Would invitations to a late summer wedding be lovely if custom-designed and printed by Salt & Cedar? No doubt about it.