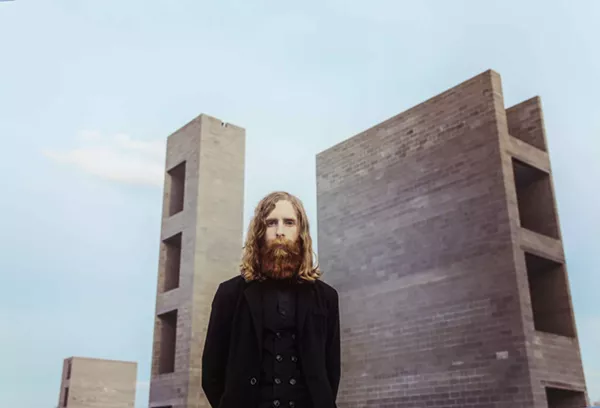 Saintseneca's roots reach back to southeast Ohio, where frontman Zac Little grew up. And anybody who's been to that slightly weird, isolated corner of the world might recognize some connection between it and the band's tunes. Their new album out on ANTI-, "Pillar of Na," offers indie-folk-psych cuts that just feel like a product of Ohio's Appalachian foothills (though the band is now Columbus based), and Little's lyrical content on the new album — which is filled with spiritual imagery and explores memory — seems to be generated from somewhere south of Akron.
We spoke with Little ahead Saintseneca's Thursday night show at The Loving Touch about Appalachia's influence, preaching, and what the 10-year-old band is up to in its latest recording.
Metro Times:
You're the first musician I think I've talked to or even know who grew up in the hills of southeast Ohio. How did that shape what we hear from Saintseneca today?
Zac Little:
The longer we're doing this the more I realize, 'Man, I don't think I've ever met anyone else who's from that part of the country [who are working musicians].' I know there are people doing it, but they're not necessarily acknowledged outside of the purview of that place. But it's one of those things that's pretty difficult to know — how can you step out of yourself and have that perspective of how that place informs what you do?
So I honestly couldn't say, but I think if anything it makes you a little more aloof … because in some ways you're just sort of insulated. I think it can be cool because you don't have this preconceived notion about what a band should be or how you should portray it, in terms of having to emulate other things that are going on in the music scene. So you're kind of aloof and in some
ways
it gives you space to figure it out on your own and
do
your own thing instead of getting tangled up in what's fashionable at that moment.
MT:
I read somewhere that you were a preacher as a kid. Tell me about that.
Little:
In some ways, it was thrust upon me. I grew up in that environment and, somehow or another, I couldn't tell you how, I started doing it and it opened up from there. I suppose it went well ... and it's interesting to try to wrap my mind around now.
MT:
The new album is billed as folk or folk-rock, but it seems like those labels don't quite fit — there's a lot more going on. How do you describe it to those who might not have heard it yet?
Little:
I would just play it for them. I feel similarly challenged to categorize it or whatever... As a reference point, I'll say 'There's an acoustic guitar, so what does that tell you about it?'
I suppose that I put in an effort to deliberately not make something that's assigned to, or not part of a particular [genre]. I'm interested in doing a lot of things, so whenever someone is like 'Tell me what it is' I'll say, 'good question.'
MT:
For those who haven't heard or listened too closely yet, there's a lot of depth to your lyrical content. Can you talk about some of the themes you hit on and why they're important to you right now?
Little:
It's an exploration of memory, thinking not only about personal memories and experiences, but also looking at those through the lens of the question of what memory is — the broader, collective human memory, and the way that we try to hang on to the past and project it forward into the present or future. And how that may or may not correspond to what's true about where we actually are or what we really did.
Things melt away, slip away, and sometimes things continue on, and the shape of what that is — it leads to a lot of questions about how the image of the past actually corresponds to what it might have been.
MT:
Has the band's live show evolved at all with the new album?
Little:
It's been so many different things over the years because we've been a band for about 10 years. When it started out it was kind of like a bluegrass-style presentation, then it gradually became amplified in various ways, and now I'd say it's interesting because the record is pretty textured, but I think it's one of our most literal translations of the recording into the live show in terms being a faithful representation of that.
Saintseneca begins at 8 p.m. on Thursday, Oct. 11 at The Loving Touch; 22634 Woodward Ave., Ferndale; thelovingtouchferndale.com; Tickets are $12.
Get our top picks for the best events in Detroit every Thursday morning. Sign up for our events newsletter.