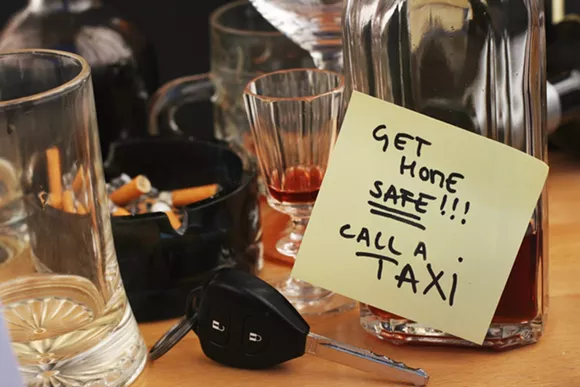 The one sure way to ruin a day filled with merriment and
green beer
delight is to get a DUI (or worse) after your celebrations are over.
To avoid that, and keep everyone safe, one area law firm is offering free rides home today. Christensen Law has offered the 'Safe Ride Home' program on other national [drinking] holidays and is extending it to include St. Patrick's Day.
Michigan State Police have seen an increase in drunk driving accidents around St. Patrick's Day, according to a press release, and are expected to increase drunk driving patrols in counties across the state.
As a personal injury lawyer, the firm's founder, Dave Christensen, said he has seen too many people suffer as a result of drunk driving, which is why the firm offers the service.
Here's how it works:
Just call a cab or Uber to take you from the bar to your home. Pay for the ride that night and get a receipt. The next day, simply email (or snail mail, see below) a copy of your receipt along with a copy of your driver's license or State of Michigan ID card to
[email protected]
to receive a reimbursement of up to $35.
And here's the fine print:
Offer is good from 1 p.m. on March 17, 2016 to 4 a.m. on March 18, 2016.
You must be at least 21 years old.
Maximum reimbursement is $35, good for a one-way ride to your home.
Receipts must be received by Christensen Law by midnight, March 21, 2016 to be eligible for reimbursement.
Ride must be within Wayne, Macomb, Oakland, and Washtenaw counties.
Provider of ride must be a licensed taxi company or Uber.
For snail mail users: Send your materials to Christensen Law Safe Ride Home, 25925 Telegraph Rd., Suite 200, Southfield, Mich. 48033.