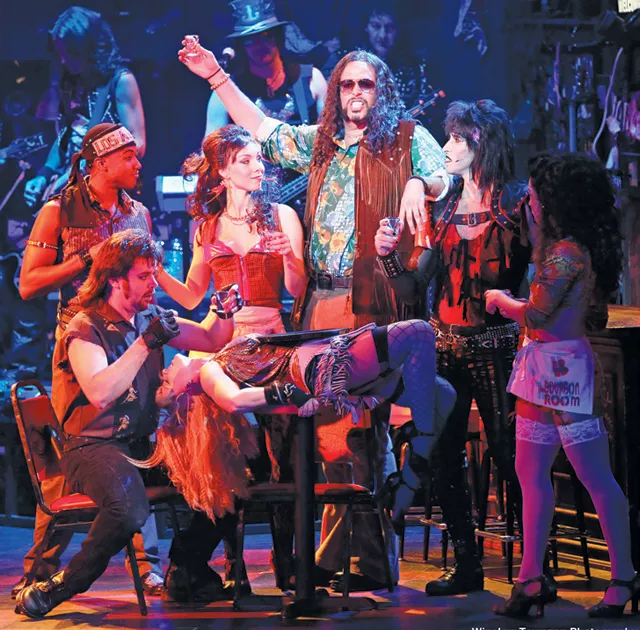 The unholy marriage of show tunes and hair metal gets sanctified on the altar of Hollywood clichés in Rock of Ages, a tedious slog through MTV's late '80s catalog that manages to conjure the worst of all possible worlds at once. Directed by Adam Shankman (Hairspray) and adapted by Justin Theroux (Tropic Thunder) from a Broadway smash that has beguiled endless waves of tourist rubes, the piece loses most of its charm on the big screen. A "jukebox musical" where familiar hits of yesteryear are patched together with a flimsy narrative, the film version is so appallingly lame and tepid that even the ozone-destroying hairdos seem flat.
The flick begins in 1987, with wide-eyed singer-heroine Sherrie Christian (Julianne Hough) boarding an L.A.-bound bus from Okalahoma, and while (shockingly) no one ever sings "Oh, Sherrie" to her, her fellow passengers do serenade her with a stirring rendition of Night Ranger's "Sister Christian." She's dropped off in Hollywood — at roughly the same spot as Axl Rose in the "Welcome to the Jungle Video" — and is promptly mugged of her suitcase and prized record collection. Fortunately, a nice young guitarist named Drew (Diego Boneta) swoops in to the rescue and helps Sherrie land a waitress gig across the street at the famed but floundering Bourbon Room nightclub, a joint with all the authentic rock 'n' roll atmosphere of an Applebee's.
The club's soulful yet jaded owner (Alec Baldwin) and his doting flunky (the ever-grating Russell Brand) have cooked up a plan to balance the books by hosting the farewell performance of a band called Arsenal, fronted by Stacee Jaxx (Tom Cruise), a notorious engine of mayhem in human form. Hedonist Jaxx seduces, abuses or otherwise corrupts everyone who enters his orbit, including a Rolling Stone reporter (Malin Akerman), a sleazeball manager (Paul Giamatti) and the moralistic mayor's wife (Catherine Zeta-Jones), who is running an anti-partying "clean up the strip" campaign, because she's secretly a jilted former groupie. Jaxx even drives a wedge into the idiot romance of our bland leads when Drew mistakenly thinks Sherrie Christian had a fling with the star, leaving in a huff to join a boy band. That the movie actually has the balls to suggest that hair metal owns the artistic high ground over teen-friendly pop-rap, is just one of the absurdities the script forces on us. Other lowlights: a sweaty, shirtless Cruise tenderly croons "I Want to Know What Love Is" directly into Akerman's pert butt cheeks, and a gag-reflex-inducing Baldwin-Brand make-out session.
Much in the way that Grease embodied only the cheesiest elements of doo-wop and early rock, Rock of Ages wallows in the big hooks and histrionics of Bon Jovi, Def Leppard, Poison, etc., a deeply hokey music era of questionable nostalgic value. Even fans of the music will likely be insulted by the sanitized Muzak versions heard here; everyone else will find the stream of bad acting and worse power ballads to be insufferable. Rock of Ages will make you want to bang your head ... into a wall.