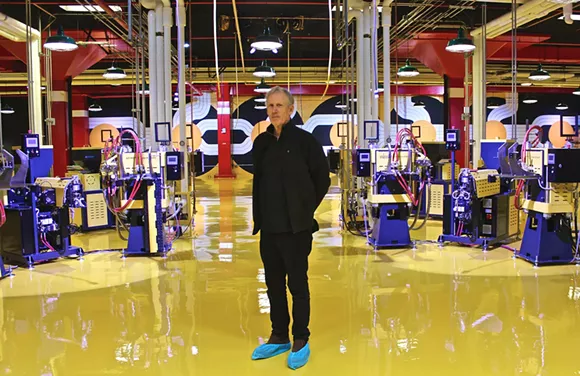 Cass Corridor artist Robert Sestok is perhaps best-known for his welded sculptures assembled from scrap metals, which can be seen along the Detroit Riverfront Conservancy, adorning residential properties in Woodbridge, and of course, at City Sculpture — the Cass Corridor sculpture park that Sestok organized and opened in 2015, adjacent to his longtime studio space.
But sculpture is not his sole medium. As Verses, his 2012 solo exhibition at the College for Creative Studies Center Galleries, proved he might also be remembered as a muralist.
Sestok's Cass Corridor history caught the eye of musician Jack White, who was recently able to realize a homecoming of sorts with the opening of a retail location and record-pressing facility for his imprint, Third Man Records, situated in the heart of the redeveloping Midtown area.
"Opening Third Man Records in Detroit has always been a plan of Jack's, because the label imprint was started here [in 2001], just as an imprint on all his White Stripes music," says Roe Peterhans, who manages daily operations at Third Man's Cass Corridor location. In 2009, White launched a brick-and-mortar headquarters for Third Man in his adopted home base of Nashville, which houses a retail space, theater, and offices that manage distribution and other administrative concerns.
"The hope was always that someday that something like this could do well here, in his hometown," Peterhans says. "It's where it all started." As the dream became a reality, with Third Man opening its doors as a retail location in Detroit last year, White turned his attention to the ways in which he could create aesthetic ties between the contemporary reality of Midtown and the rich history of the Cass Corridor.
"You dive back into his [White's] history of appreciation for art and music in Detroit," Peterhans says. "Before making a living as a musician, he was an upholsterer that worked on lots of classic midcentury modern pieces of furniture — sort of fell in love with Detroit art culture and history, and the Cass Corridor artists were part of that."
Sestok stood out particularly in White's memory, Peterhans says, because of a mural he did in 1971 at the Duffy Co., a pipe and tubing manufacturer.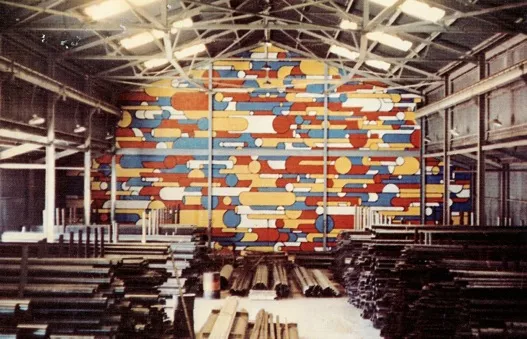 "There were stacks and stacks of pipes in a 20,000-square-foot warehouse," says Sestok, during a tour of factory floor where his mural will act as a backdrop to Third Man's operations. "I had this idea that I would interpret the storage of the pipes, but then I made them floating up on the wall, and I painted them different colors." The mural remains visible in the old warehouse space, and has been featured of late as a landmark of Detroit's public art.
"Jack saw that mural a long time ago, because he lived in the area, and he remembered it and he contacted me," Sestok says. "I went from a narrative point of view for creating the [Third Man] mural to this abstract idea, more like the Duffy Company, but working with circles as some kind of basic idea for the design. I transferred from circles in pipes to circles in records."
Sestok's mural for Third Man spans 88 feet and stands 14 feet tall, and features Frank Stella-esque geometrics in Third Man's signature colors: black, yellow, and white.
"I think I redrew it about 10 times before I came up with the final solution," Sestok says. "In the beginning I proposed pictures of Jack playing the guitar and the records floating in space, but he wanted something that would work with the factory." A series of black circles — abstracted records with lemon-yellow centers — are connected by white tube-like forms that mimic the industrial conduits serving the production floor. The forms on the wall are bracketed by support beams in the signature red that was an integral part of the White Stripes branding.
"It's incredibly representative of what's going on in the building," Peterhans says.
"Each of Jack's projects in the building has its own palette. The support columns are red and white, like the White Stripes because that's the foundation, propping this all up." Third Man's black and yellow are representative of the working environment, and mirrored in the branding all over the facility, from the tools, to the merchandise for sale, to the black uniforms topped with yellow ties or Anna Sui-designed dresses worn by workers on the sales floor and in the office.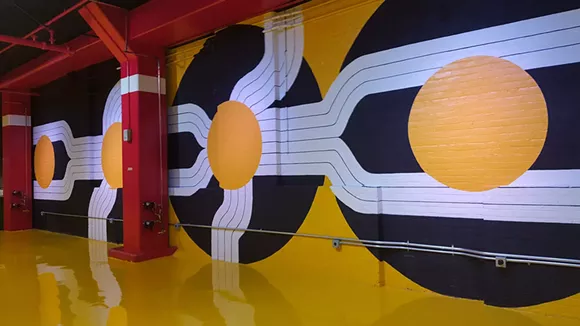 Third Man has employed other local artists and artisans on elements throughout the facility, including interior architectural metalwork, sign painting, and other creative fabrication by artists Chris Turner, Taru Lahti, Jamie Easter, and Golden Sign Co. (Jordan Zielke and Kelly Golden), and the distinctive broadcast tower sculpture on the roof is the work of sculptor Alex Porbe. But in terms of aligning Third Man's aesthetics with the objective of tying new development into the history of the Cass Corridor, Sestok's mural is the piece de resistance. He was assisted in its execution by artist Jonathan Rajewski — one of many younger artists Sestok has befriended and mentored in his tireless efforts around the Corridor.
"I really got into doing the project," says Sestok, pointing out some of the graphic elements, such as the white conduit lines sloping to form brackets, which reference the old-fashioned method of cutting grooves into a record with an actual needle. This focus on form, and the inevitable grittiness that comes of applying paint to an uneven wall designed for an industrial facility, connect this mural to some of his better-known works.
"The constraints on the design caused it to be very refined," Sestok says, "so that's what makes it special. This isn't the kind of thing I go out and do every day."
Kudos to Third Man Records, for finding a new groove for a classic Detroit artist.
Third Man Records is located at 441 W. Canfield St., Detroit; 313-209-5205; thirdmanrecords.com.