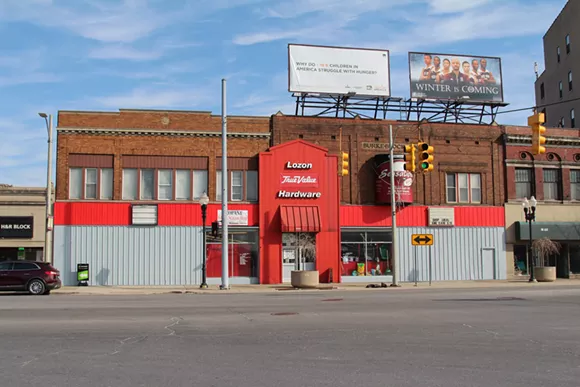 Once a booming industrial town, the Downriver city of River Rouge has seen better days. It's been on a downward economic trend for the last two decades, but city officials are hoping to turn that narrative around. The down-and-out city is opening its arms to artists following the recent legal battle over the Russell Industrial Center buildings, which was known as an enclave for artists.
The city is promising to help artists find affordable studio spaces and homes, and offering to be the conduit to financial consultations and assistance. Market values in the city are far below those in northern suburbs. For example, commercial buildings are on the market for as little as $8,000, and move-in ready homes are selling for around $55,000 — and some even cheaper.
Despite inexpensive real estate, the city has yet to attract new residents. According to city developer Karl Laub, River Rouge had nearly 20,000 residents in its heyday, but now only about 7,000 people live there. And Laub, along with other city officials, says he'd rather see those vacant buildings and homes occupied than watch them further atrophy.
According to Laub, the city is also working on other initiatives like creating a bike lane on West Jefferson, planting trees, and further cleaning up the north end of the city. In the future, they plan on developing a splash park as well.
"For a long time we were cutting programs because there was no money," Laub says. "Now the mayor is trying to add some quality of life here."
Last month, the more than 150 tenants of Detroit's Russell Industrial Center were briefly told they must vacate the premises following several city inspections, which deemed the properties unfit. Late last week the city told the tenants they could stay while the ownership made the necessary repairs, but for many it may me too little, too late: According to a Russell Industrial Center spokesman, about 70 tenants decided to take the opportunity to permanently move out of the complex.
Rick Manore is collaborating with the city of River Rouge on this project. In fact, in 2009 he worked on a similar project (although much smaller in scale) called the Red River Art Center. He took over a building and worked to attract artists to the space, but after a tenant bought the building, the project fell to the wayside.
Now, he's back at it with even more wind in his sails. And with Laub's help — plus that of councilman and former Mayor Dan Cooney — he's hoping to revitalize the city while making it a sanctuary for artistic types.
"I want to see a bunch of creative people working here," Manore says. "And hopefully it will help the city endure and grow. River Rouge is a dying post-industrial city, but it has managed to hang on."
Manore says the city has a diverse population, a "good public infrastructure," and a downtown area that's ripe for this change, noting he's been working on this initiative for awhile, but it's on a fast track due to the Russell's closure.
Manore, who owned the famed and now defunct CPOP gallery in Midtown, knows that bringing artists to an area is key to revitalization.
"(We're) not going to invite Saks Fifth Avenue, so we have to do it the organic way," Manore says. "We're going to let the artists come in and reinvent the city."
Because of its industrial past, the city and many of its buildings are set up for artists who work with heavy metals, glass, or other materials that require more electrical power. And they're hoping that cheap real estate and perks like three-phase power will be enough to pull artists in.
"The city, with its limited resources, wants to put its money where its mouth is," Manore says. "They're really going to be liberal with help. They want to be an integral part of building an artist community."
While the city won't simply be giving properties away, they will be offering plenty of incentives. They will also work to connect artists with city officials in case issues arise with properties or landlords.
"They'll have the mayor's home phone number, they'll be able to directly speak with city government," Manore says.
Unlike the culture at the Russell, Manore says there will be an open flow of communication, coupled with a welcoming small-town feel.
"We want bands, we want artists," he says. "We want them to feel like there is a community here."