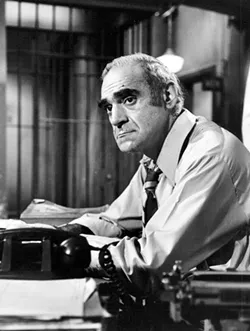 It's with a heavy heart I say goodbye to Abe Vigoda, who died yesterday at the age of 94. No, there's no Detroit connection here, not really. (Although Max Gail who played beside Vigoda as Wojo on
Barney Miller
was from Detroit, and raised in Grosse Ile, so there's something.)
Vigoda, as we all know by now, played Det. Sgt. Phil Fish on
Barney Miller
and starred as Salvatore Tessio in
The Godfather
. In that latter performance, Vigoda was part of a long tradition in TV and Hollywood:
A Jewish actor playing Italian roles
.
He was also one of those people whose media death preceded them. He was called "the late Abe Vigoda" in stories in 1982 and 1987, and later said the widespread belief that he was dead cost him work as an actor.
In a remarkable turn of events, Vigoda would outlive many who thought him already dead, and it became a running gag that Vigoda was outliving so many other celebrities. With the help of a friend, I set up a site called
isabevigodastillalive.com
, which featured smiling photos of Vigoda. (A friend joked that he had just downloaded an "Abe-tracker" app on his phone, for up to the moment information.)
Even these last few months, as entertainment titans like Lemmy Kilmister and David Bowie died, we pointed to Vigoda's endurance as a reason to celebrate. Sadly, that joke falls flat with the death of Vigoda yesterday.
He hadn't appeared in a film in more than a year, but I'll always miss him, and one of the reasons why is because he in many ways represented television in the 1970s. It was a great decade for television, which featured scads of working-class characters. You had the detectives of
Barney Miller
, the working ladies of
Laverne & Shirley
and
Alice
, the working-class race politics of
All in the Family
, strong single women like
Mary Tyler Moore
and
Rhoda
, and even minorities in up-front and top-rated shows like
Sanford & Son
and
Chico and the Man
. This was long before TV devoted shows to all-white, affluent casts a la
Beverly Hills 90210
and
Friends
, and it was a world Vigoda fit in with wonderfully.
I'll always miss that decade of television. But I'll miss you most of all, Abe.