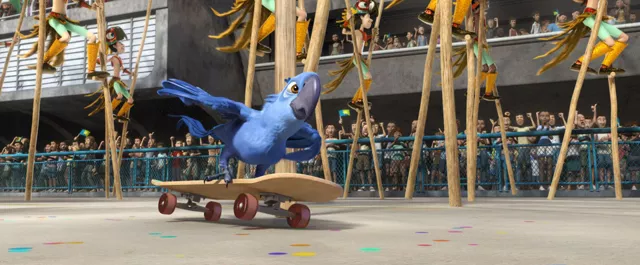 Fun, sweet-natured and filled with brilliantly colored visuals (apt for its Brazilian setting), Rio is predictable and weightless fluff, a kiddie flick that's instantly forgettable but far from regrettable. With a handful of Latin-inflected song-and-dance numbers, wonderful aerial sequences (enhanced by 3-D), and a spectacularly exotic setting, the latest kiddie CGI-fest from Blue Sky Studios (Ice Age, Horton Hears a Who) will attract plenty of throwaway compliments. Get ready for adjectives like "sunny," "breezy," and "lively."
Jesse Eisenberg voices Blu, a rare cerulean macaw who has lived all his pampered life in Minnesota with bookish Linda (Leslie Mann). Nerdy, nervous and unable to fly, he's brought to Rio de Janeiro for breeding purposes and — wouldn't you know it — it's Carnival! Unfortunately, his mate-to-be is the feisty and eager-to-escape Jewel (Anne Hathaway). Worse, the two are kidnapped by heartless bird thieves, looking to smuggle them out of the city. Before you can say "fish out of water" the mismatched macaws are on the run — literally. Chained together, flightless Blu prevents Jewel from taking to the sky, making it harder for them to dodge two dim-witted poachers (Brazilian versions of Cruella de Ville's Horace and Jasper) and their boss' dastardly cockatoo, Nigel (Jemaine Clement).
Though the plot is connect-the-dots predictable and the human characters are blander than bland, Rio still entertains with its fleet-footed pace, wonderful and vibrant visuals, and standout voice talent. Eisenberg excels in his nervy but uncertain geek thing, Jamie Foxx and will.i.am impress as a pair of singing sidekicks, and Flight of the Conchords' Clement savors every menacing line. Best of all, director Carlos Saldhana keeps his movie mercifully pop-culture free, with most of the jokes aimed for the under-4-foot set.
And even when Rio does indulge in a little parental insider humor, it entails casting Bebel Gilberto as a toucan who can't sing. You've got to admire a kid's flick that aims its adult gags way over the heads of the kids' chaperones.