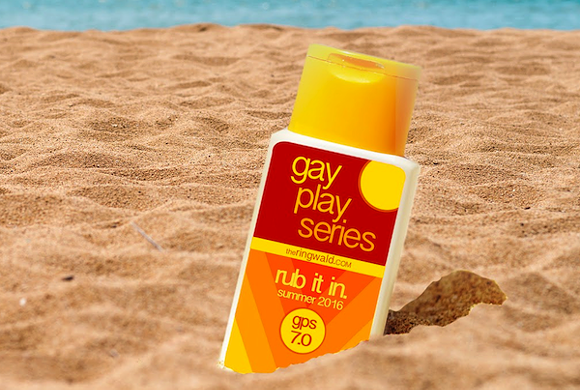 The Ringwald welcomes the seventh fabulous year of the wildly popular
Gay Play Series
, featuring new short plays, a staged reading or two, and much more.
The fun begins at 8 p.m. Friday, June 17, with a special evening honoring everyone's favorite Miami foursome: The Golden Girls. Richard Payton will resurrect his Blanchette Deveraux character (from Thank You for Being a Friend: The Unauthorized Golden Girls Musical) to host an evening of
Golden Girls Trivia
, featuring video clips and cool prizes.
Two programs of one-act plays will take the stage twice. Much of the work is written by local playwrights or actors, such as Dyan Bailey, Dale Dobson, Dave Davies, Brandy Joe Plambeck, Brian David Walker, and more, but a few are not entirely local, such as
Man in Peril
by Alex Dremann.
One-act plays in competition for special audience awards given to the winning script, which will then receive an additional performance at 8 p.m. on Monday, June 27. Audience members will also be asked to vote for a favorite performances and director.
The schedule will feature the return of past successes, such as Richard Payton's one-man show from last January, the off-Broadway sensation
Buyer & Cellar
, written by Jonathan Tolins. It's an outrageous comedy about the price of fame, and concerns a struggling actor in Los Angeles who gets a job working in Barbra Streisand's Malibu basement.
Buyer & Cellar
is an outrageous comedy about the price of fame, the cost of things, and the oddest of odd jobs.
One event combining humor and thought-provoking discussion is a staged reading of
The
Newparts Project
, the newest comedy from Julia Lynn Marsh (
Please Give Me Your Money So I Can Buy a Vagina
, and
Alphabet Soup
). The story? The Changes Bed, Breakfast, and Diner is closing. With no more people in the small Colorado town of Newparts to keep it open, foreclosure is inevitable. What can a line cook, an unfortunately blonde receptionist, and a manager who pays the bills with phone sex do? Make like Burning Man and host Newparts' first-ever porn festival. The show will be followed by a discussion on casting for transgender characters with the audience, cast, and playwright. The reading will be followed by a
free
event,
Dustin's Big Gay After Show
, a late-night talk show featuring local mastermind Dustin Gardner
The festival will conclude on Monday, June 27 with the awards ceremony, a repeat performance of the audience-voted favorite one act and the return of
3 Queer Tenors!
The "Queers" are vocalists Jamie Richards, Richard Payton, and Vince Kelley, and they'll be performing Bette Midler: Live at the Continental Baths, with plenty of Bathhouse Betty and more than a little Manilow.
The Gay Play Series will run for two weekends, June 17- 27, at the Ringwald Theatre, 22742 Woodward Ave., Ferndale; admission is $10 per event; $30 festival passes (which gets you into all events both weekends) will also be available. Tickets can be purchased at theringwald.com or at the theatre box office. The Ringwald box office opens 45 minutes before performances and tickets can be purchased with cash or credit card. See the website for details.