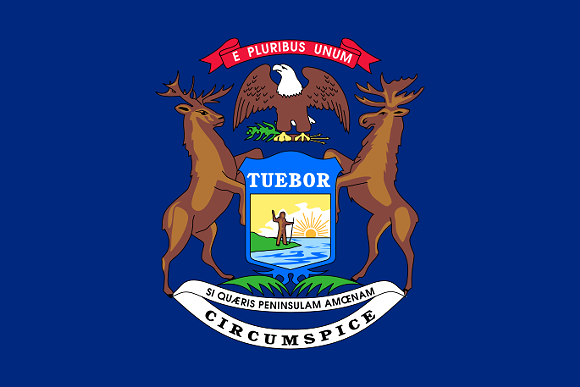 A good flag can say a lot.
Whether it represents a small group or an entire country, good design on a flag can not only speak volumes about what a group represents, but it can also be a good showcase the artistic talents of the community behind it.
According to Grand Rapids-born Amway heir Rick DeVos, Michigan's state flag fails to deliver on both of these fronts.
And he wants something done
about it
.
In the past, DeVos has made his distaste for the flag pretty vocal:
I've complained several times about how ugly and non-useful the current Michigan state flag is. It's a big missed opportunity. Michigan has amazing design talent, and a state flag is (or at least can be) a powerful community design asset. Think of it as a public park. Unfortunately our current flag doesn't function as such. For a positive example look at what CA, CO & others are able to do w/ their flags. So rather than just complain, it would be fun to do something about it, get some forward motion, and not overthink some big process. Here's the

idea:

design a new flag for Michigan. Reply to this tweet and share widely. The top 3 designs will each receive $500. Selections will ultimately be at my discretion but will certainly be informed by general group feedback. The idea is that one of these could perhaps become a community design asset, I'm not interested in owning anything, so share widely.
If you feel like you have what it takes to be one of the three lucky artists to potentially find a place in Michigan's history (and find $500 in your pockets),
DeVos is taking submissions via Twitter
.
Here are some of the more popular designs so far:
@RickDeVos #miflag 5 stars for the 5 lakes, antlers symbolize peninsulas and 14 districts https://t.co/bu3kkFej4q pic.twitter.com/ZEzw7RCCat

— Quin Hoffman (@QuinlanHoffman) June 17, 2016
@RickDeVos //Color = Great Lakes //Curves = Coast, Waves, & Bridge #miflag #changeisgood pic.twitter.com/yfJwFrD23j

— Eric McKee (@enmckee) June 17, 2016
@RickDeVos #MIFlag 4 colors: 4 seasons; 2 pines: 2 peninsulas; & 5 blue dots: all the Great Lakes! pic.twitter.com/VXMtMvK2je

— Mariah (@ItsMrah) June 16, 2016
.@RickDeVos #MIFlag Four blue diamonds for the Great Lakes we touch, two stars for the peninsulas. pic.twitter.com/0b6MiynlNo

— Conor Farrell (@copafar) June 16, 2016
@RickDeVos Trillium 4: white flower, green peninsula, water on sides, now gold stigma for growing industry. #MIFlag pic.twitter.com/e9nGffCvWL

— Dean Heetderks (@deanheetderks) June 16, 2016