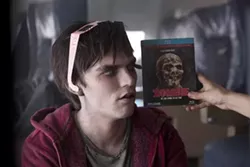 Warm Bodies C+
The inarticulate teen: Is there a more tried-and-true rom-com protagonist? John Hughes made much of his career on the appeal of such characters, and so, in this age of zombie-inflected dramas, it makes sense that Hollywood would see the walking dead as an apt metaphor for the reticence of today's youth. The age of hesitancy has been further extended to many post-collegiate grads, left stranded between adolescence and adulthood by an unforgiving recessionary economy. In many ways, 22 is the new 17.
In Warm Bodies, writer-director Jonathan Levine (50/50, The Wackness) attempts to turn Isaac Marion's teen romance novel into a lightweight tongue-in-cheek — or rather teeth-in-brains —romantic comedy for those who might not get that a zombie named R falling in love with a girl named Julie has Shakespearean undertones (there's even a cursory nod to the balcony scene). Unfortunately, the concept, which has potential, isn't tackled with nearly enough wit, depth or verve.
"Why can't I connect with people? Oh, right. I'm dead," observes R (pretty Nicholas Hoult) in a droll voice-over narration. His red-hoodie wearing zombie is lonely. He can't remember his full name, feels conflicted about his dietary needs, and wanders the post-zombie apocalypse landscape hoping to make a meaningful connection. His home is an abandoned airliner filled with mementos of humanity that he collects like Wall-E. It's where he listens to John Waite's '80s hit "Missing You" on a battery-operated turntable over and over again. His best friend is a zombie (Rob Corddry) who haunts the airport bar and occasionally grunts out a word or two.
In the nearby city, the surviving humans live behind an immense wall, sending out their young to scavenge for supplies. It's amid the ruins that R meets and is immediately smitten with Julie (Teresa Palmer) — after eating her boyfriend's brain, of course. That meal gives him the angry teen's memories. R rescues (or is it kidnaps?) the object of his affection and brings her back to his home, where the two bond. Unfortunately, Julie's dad is the ruthless leader of the survivors, hell-bent on eradicating the undead. And then, of course, there are the "bonies," creepy skeletal creatures that hungrily hunt in packs. Can love truly blossom between two kids from opposite sides of mortality?
Levine skips through the action sequences with a quick, generic approach, preferring to linger over the developing relationship between R and his potential lady love in gauzy close ups. Too bad their exchanges aren't particularly snappy or revealing. There are a few funny lines and the leads are likable but, for the most part, Warm Bodies feels more like the outline of an idea than a fully-developed film. It's paced just a bit faster than the undead's shuffle, lacks internal logic, and unforgivably wastes the talents of John Malkovich, treating him as just another barely sketched cliché of a battle-hardened dad.
Still, as far as supernatural romance flicks go, it's brief and entertaining enough to dilute the insufferably noxious aftertaste of the Twilight films. And, thankfully, the zombies don't sparkle in the sunlight.