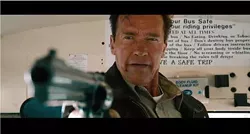 The Last Stand D+
Having shown himself to be a typical politician and failure as a family man, Arnold Schwarzenegger returns to what made him a box office titan: making noisy, dumb, tongue-in-cheek fascistic shoot-'em-ups that appeal to the monster truck and demolition derby lover inside all of us. Yet even by the low standards of the "Governator," this
is as flimsy an enterprise as he's ever been involved with, sporting a barely passable plot that is riddled with as many holes as the disposable bad guys.
Ah-nold, stars as small-town sheriff "Ray Owens" (Owens, of course, being a very typical surname in Vienna) whose dinky hamlet of Somerton, Ariz., is near the border, and happens to be right in the middle of an escape route planned by a Mexican drug lord (Eduardo Noriega), who is freshly escaped from federal custody, headed for the border in a fast ride and holding an FBI agent (Genesis Rodriguez) as a hostage (or potential girlfriend). Meanwhile, the cartel's small army of seedy gunmen is busy doing the advance work of blowing away a farmer (Harry Dean Stanton in a random cameo) and lurking around the town's cozy little diner, which pings sheriff Ray's ever-vigilant radar, even on his supposed day off.
Since the ace G-man played by Forest Whitaker seems to be only capable of overemoting and staring in opposite directions at the same time, and since the government agents seem to have completely forgotten that they have access to helicopters, it's up to Arnie and his ragtag crew of wacky, stereotyped deputies to save the day. His semi-competent crew of sidekicks includes Luis Guzman as the lovable, wiseacre, roly-poly deputy. There's also Johnny Knoxville as the town's fun-loving oddball, who happens to run a museum fully stocked with exotic weaponry, including bazookas, antique armor, sniper rifles and a big honking machine gun.
With all it's macho posturing, misplaced nostalgia and feverish jingoism, The Last Stand plays out a bit like a wet dream of Bill O'Reilly. This is a movie world in which the feds are impotent and only the rugged individualism of patriotic, god-fearing, gun-toting small-town individualists can prevent the dangerous foreign thugs from running wild on our land.
Not that Korean import director Kim Ji-Woon (I Saw the Devil) seems to grasp the politics, or have a touch for satire, though he delivers a few clever set pieces, like a muscle-car chase through a cornfield.
For all the flying lead, grinding metal and splattered blood, there should be enough trashy thrills to push this one over the finish line, but the script by newbie Andrew Knauer is as lazy as Forest Whitaker's left eye. Lame lines such as "I'm the sheriff," and "Welcome to Somerton!" are not likely to join the hit list of Arnie's one-liners, and even a tossed-off sight gag involving a Conan prop feels half hearted. Other, better action stars, like John Wayne and Clint Eastwood, turned aging manliness into an interesting theme, but Arnold — his hair dyed dark and absurdly spiked — seems lost without his bulging biceps, looking like an old tire slowly deflating in the setting desert sun.