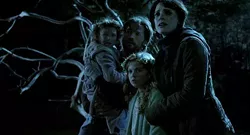 Mama C
If you kick your cinema spookfest off with a title card that reads "once upon a time," you'd better deliver the fairy tale goods. Executive producer Guillermo del Toro's own work (Pan's Labyrinth, Hellboy) has mixed horror and fable to good effect, providing scares while enriching his fantasies with political subtext. Unfortunately, first-time feature filmmaker Andy Muschietti's Mama isn't really worthy of the del Toro imprint. An expansion of Muschietti's three-minute short, the movie (which Muschietti co-scripted with his sibling, Barbara Muschietti, and Neil Cross), while effectively creepy, is formulaic and woefully underdeveloped. In many ways, it feels like a modern update of last year's Edwardian-era ghost story, The Woman in Black. But instead of a grieving and soulful Daniel Radcliffe, we get Jessica Chastain as a dark-haired, beer-swilling, tattooed anti-mom who wears a Misfits T-shirt and plays bass in all-girl punk band.
The film opens with a businessman killing his wife and fleeing into the snowy mountains with his two young daughters. Speeding along icy roads, the car crashes, stranding the trio. In the woods they find an abandoned cottage, oddly decked out with Eames-era furniture. Mad with despair, dad decides this is where he'll put an end to his family —only to be stopped by a shadowy force. Flash forward five years. The girls, 8-year-old Victoria and 5-year-old Lily, are found in a dirty, feral state. Their dad's twin brother Lucas (Nikolaj Coster-Waldau, aka Jamie Lannister of Game of Thrones) and his girlfriend Annabel (Chastain) agree to take them in with the help of an ambitious psychiatrist, who sees a unique opportunity for research. Everybody assumes that the girls survived on their own and need only to be gently reintroduced to society. Unfortunately, that's not quite the case. Something took care of them all those years, a possessive and vengeful wraith they call Mama, and it has decided to move in with them.
There's a rich vein of maternal instinct and parental fear to mine here, but none of it is exploited —literally or allegorically. Lucas and Annabel are shallow characters who aren't given much of an opportunity to explore, fight over, or fail at being care-givens. Similarly, Victoria's guilt over embracing her new parents and the friction that results from Lily's decision to remain loyal to Mama goes nowhere consequential. Instead, their apprehensions and worries are papered over with witless exchanges, story contrivances and unexplained events. The Muschiettis and Cross never convincingly expand on their original short, choosing to present a backstory we've seen before, plot mechanics that are beyond formulaic and supporting characters, like the psychiatrist, who serve only to explain what's going on. As each contrivance piles on —a vindictive aunt, stolen files, a handy coma, a records office where dark secrets are kept, conveniently delivered dreams that fill us in on Mama's origin —it becomes clear that the filmmakers are just padding an otherwise sporadic and unmotivated series of jolts.
In terms of scares, Mama is of the "what's under the bed?" variety. There are vulvic orifices, big black moths, and sickening organic sounds. But the aesthetic mostly falls somewhere between the del Toro-produced Spanish horror The Orphanage and J-horror like The Ring or The Grudge. Muschietti does a decent job of conveying the sad eeriness of the situation, and strikes an effective balance between startles and suspense —even with his PG-13 rating. If a grotesquely contorted, bone-thin, scraggly-haired ghoul rushing at the camera gives you the heebee-jeebees, then Mama may provide enough creeps to justify a night at the cineplex. But if you're looking for the kind of fantastical weirdness that del Toro is known for, the kind that haunts your dreams, you're bound to be disappointed.