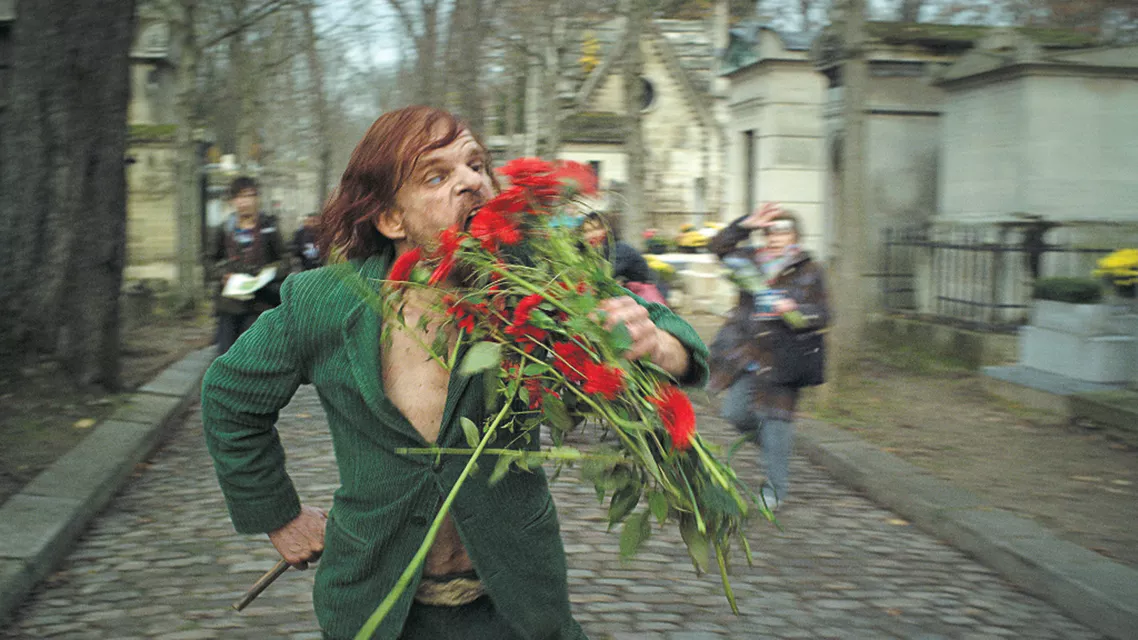 Holy Motors | A-
Welcome to the latest in WTF cinema, the kind of movie that critics love, general audiences loathe and cinephiles puzzle over. Leos Carax's Holy Motors is French, cryptic, absurd, garish and completely unfettered from a traditional plot line. Think of it as a flamboyant cinematic serpent swallowing its own tail or a deranged magical mystery tour that, if you're game, will crawl under your skin and bounce around your brain for days afterward. What does it mean? What do you want it to mean?
Less a story and more a series of performance vignettes, we experience a day in the life of Monsieur Alex Oscar (Denis Lavant) — the name is an anagram of the director's non de plume — a professional role-player who is driven in white stretch limo to a set of nine appointments scripted by his mysterious boss (Michel Piccoli) for mysterious purposes. At each, Oscar assumes a new guise, nay, complete persona, transforming himself into cool businessman, a homeless old gypsy woman, a sewer-dwelling freak, or a computer game motion capture model. He assassinates a man, abducts a fashion model (Eva Mendez), plays accordion in a renegade musical band, and gasps for life as a dying old man. He even gets stabbed and shot — though always emerges unscathed for the new assignment. Sometimes the performances have a purpose, sometimes no one seems to be watching or care. With every character, he completely immerses himself, never once breaking the reality he's tasked with creating. Mr. Oscar has been doing this for 20 years, and while the money has clearly been good (he lives in an opulent home with many high end cars) it's clear he's grown weary of the business (whatever that is).
It's obvious that Carax is trading on the meta notion that everything we are watching is a movie and therefore none of this is real and therefore anything can and will happen. The movie opens with a man waking to find a portal into a movie theater playing The Crowd only to then emphasize how we are watching him and down the rabbit hole we go. Intertwining satire (there's a terrific passing joke with a cemetery tombstone reading: "visit my website"), fantasy and nightmare, Carax constructs a funhouse mirror maze of movie references, riffing on Lang, Cocteau and Buñuel as well as Carax's own films. On and on it goes until late into the night: a mad act of cannibalism, an emotional exchange between father and daughter, gangster-like intrigue, a rooftop romance under Parisian stars. Even Mr. Oscar's refined limo driver is played by Edith Scob, who 50 years ago was the daughter in Georges Franju's Eyes Without a Face.
Who do others need us to be? Who do we need to be for ourselves? Holy Motors examines the liquidity of identity without ever being pedantic, inviting you to become a participant by purposefully evading specific intent or interpretation. It is a conversation about our "other" selves, a reflection on who we are asked to become in our day-to-day encounters, and the way we all blur the line between living and acting. Or as T.S. Elliot wrote: "To prepare a face to meet the faces that you meet; There will be time to murder and create."
Holy Motors is also, however, a glorious exercise in crackpot overindulgence. There are times when the movie seems too willfully weird, too in love with outré conceits and the martyrdom of performance. It's those moments that'll test the most open-minded film lover. But Carax is theatrical by nature, a showman who has found the perfect chameleon in his longtime collaborator Levant. With an incredibly expressive face and a physicality that seems to morph into each and every role, Levant is given a rare showcase for his unique and mesmerizing talents.
As we learn that Mr. Oscar's assignments are part of an elaborate performance art installation played to hidden cameras for the entertainment of others, Carax's observations on life, shifting identities and collective dreaming ultimately take on a wry, almost ironic tone. Is something real if no one believes in it? Then why go on? A notion of obsolescence is returned to again and again, and one can't help but wonder if the film, which revels in the past but employs the digital technologies of today, is presenting itself as proof of its own demise. A final scene with Kylie Minogue arriving by white limo, singing about time, and jumping to her death, along with the final credit image of Carax's late wife, Katerina Golubeva, who took her own life, suggest that, for all of Holy Motors' crazed playfulness and anarchic indulgences in cosmic renewal, there's a devastating sense of loss that haunts its creation. mt
In French with English subtitles.
Shows at 7 p.m. Friday-Saturday, Jan. 25-26, 2 p.m. Sunday, Jan. 27, at the Detroit Film Theatre, inside the DIA, 5200 Woodward Ave., Detroit; 313-833-3237.