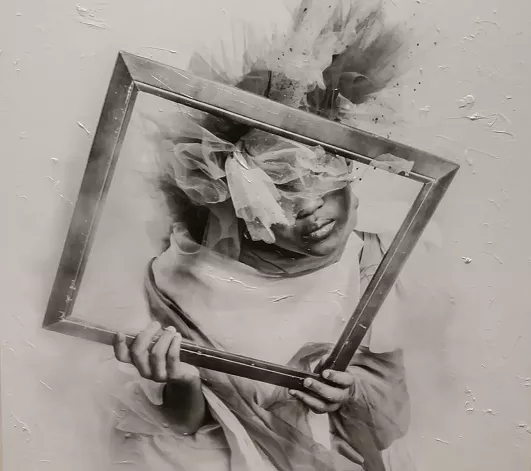 Ackeem Salmon's photography and mixed media exhibition, "The Heart of Identity," premiered earlier this month in a comfortable space inside the Charles H. Wright Museum. For the opening reception, Salmon, 18, enlisted the help of fellow alumni from the Detroit School of Arts to play from a small stage at the center of the room — a choice that Salmon himself described as essential to his artistic project.
Salmon moved to Detroit from Kingston, Jamaica in late 2014 to be with his family. He was tossed almost immediately into the drama of American race relations, arriving around the time of Tamir Rice's murder. For the young man whose native country's motto is "Out of Many One People," the rise of Black Lives Matter was puzzling.
"Instead of calling me Jamaican," Salmon tells the
Metro Times
, "the first thing they jump[ed] to is, 'You're African-American.' Wait, what? I'm not."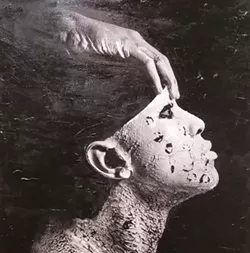 The complexities of assimilation lie at the heart of Salmon's first major solo exhibition. Previously, his work was featured in group shows in cities like New York, Port Huron, Detroit, and Philadelphia. His collaboration with energy drink company Cintron led to a display of some of his design work in South Africa (Salmon majors in photography at the College for Creative Studies, advertising design is his minor).
Salmon often carries with him a portfolio book with over 200 pieces, but "The Heart of Identity" features only 26. He wanted to fill the room appropriately, and he has done it well. The largest installation is a 82 x 132 piece that confronts the viewer as they enter. Some of the pieces hang in relative isolation on the walls, while others seem to be arranged in meaningful triptychs. An introductory panel to the right of the entrance suggests a possible path through the room, but the works are not ordered in any apparent chronological or narrative sequence.
Salmon describes his work as "productions." That isn't inaccurate. He utilizes make-up artists, jewelers, dancers, and more. Many of his photographs use his peers as subjects, and he is known to take over 1,000 shots during any given shoot. Like a theater director, Salmon is not afraid to pose his players, put props in their hair, and do whatever is necessary to create the effects he wants. Praise must be given to these subjects. Their bodies contort, fold, and stretch in an inky blackness as they express feelings of loss and imprisonment. Their necks crane and elongate like Golden Age actresses or Cirque du Soleil acrobats. Their facial expressions do not produce their poses, but follow naturally from them.
Salmon dresses some of his subjects with splotches of paint. In "Beautiful Scars," the body of a young black man is like a mobile drip painting. His knees are scraped with red gashes. Lacerations of orange and green mark his biceps and his abdomen. It is a far-cry from a work like "Framed Thoughts II," whose phantasmal subject is draped in white fabrics.
When mixed media works are successful, they quickly alert the eye to various materials and their textures. Salmon's most interesting subjects are the semi-nude figures whose skin is fractured like cracked desert earth or a plastered wall. Other figures, some of whom are costumed in full-body suits, offer a striking, "cleaner" contrast. The "Heart of Identity" succeeds when this contrast is emphasized.
There are a few works that fall outside of these categories. For example, "Soul of the Arts II" is a photographic portrait of Salmon's peers from the Detroit School of Arts that demonstrates the students practicing a variety of art forms. It is a compelling work, but one that may be
too
prepared in comparison to the individual portraits, which also appear more spontaneous.
Still, "The Heart of Identity" is a vibrant work of drama and flair that merits attention. Get it while it's hot.
"The Heart of Identity" continues at the Charles H. Wright Museum through October 30. There is an artist talk with Salmon on September 23 from 5 - 9 p.m. and a closing reception on October 28 from 6 - 8 p.m.