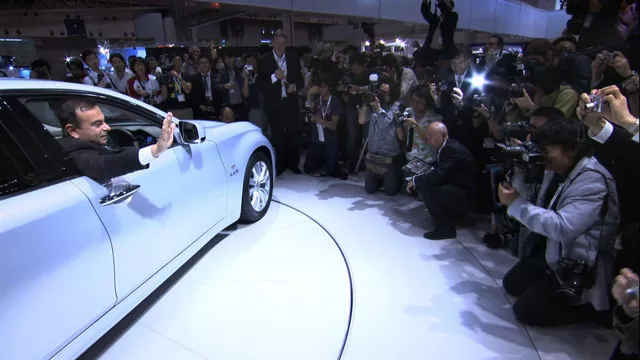 Revenge of the Electric Car
B
Yes, even documentaries can earn sequels, especially if they are as prescient and attention-grabbing as 2006's Who Killed the Electric Car? — a film that generated much more chatter and headlines than it did box office receipts. That earlier film played a bit like a corporate crime procedural; chronicling the brief, celebrated life and abrupt, ruthless death of General Motors' EV-1 vehicle, beloved by activists and collectors, but scuttled by shadowy market forces and consigned to scrap-yard oblivion. While the original ended in gloom, this follow-up strikes a more celebratory tone, examining the recent arms race to build and mass-market truly dynamic electric-powered automobiles. 
The main narrative hook is the duel between slick Silicon Valley upstart Elon Musk and rust belt dinosaur Bob Lutz, GM's veteran VP and unvarnished mouthpiece. The contrast in styles extends to the vehicles they produced; the sexy-speedy, Euro-styled and pricey all-electric Tesla Roadster, and the compromised Chevy Volt, a boxier econo sedan-styled plug-in with a small back-up gasoline engine. (It should be noted that the movie neglects to mention that plug-in electric cars draw off a grid that largely runs on coal-fired power plants, and are therefore not really "carbon-neutral.")
Musk, an under-40 whiz kid, cashed in his PayPal shares and dumped that massive capital into a pair of revolutionary enterprises; Rocket X, a private space exploration company, and L.A.-based Tesla Motors, which aims to build fully electric "super cars." Septuagenarian Lutz, a famously brash old cuss, was known as a "performance guy" who for decades touted the sexy, big horsepower gas-guzzling muscle cars that made Detroit iconic. Yet the old warhorse had a change of heart in recent years, after seeing the Tesla concept at the Detroit Auto Show, and after watching the big three lose market share for years to the more fuel-efficient Japanese models. As subplots, we get intriguing glimpses behind the scenes at Nissan, and at a mom-and-pop garage attempting to retrofit old cars to run green. At stake are billions of taxpayer dollars, livelihoods, legacies and the future of transit beyond the internal combustion engine.
The dynamic between risk and reward is magnified by the black cloud of an economic calamity so dire that it threatens not just the future of electric vehicles, but of the auto industry itself. Compelling as this all is, the drama is somewhat undercut by the pace of the 24-hour news cycle; we're all too familiar with the fates of the various players, especially here in the Motor City.
The material may be too fresh to offer insight at the moment. As edifying as it is seeing GM executives "roughing it" with cold cuts and fruit plates for lunch, it is a stark reminder of the economic apocalypse that very nearly swallowed an industry, a region and maybe a nation. Revenge of the Electric Car gives us a stark history lesson and a primer on the glittery way forward, if we want it. —Corey Hall
Opens Friday, Nov. 11 at the Landmark Main Art Theatre, 118 N. Main St., Royal Oak; 248-263-2111.