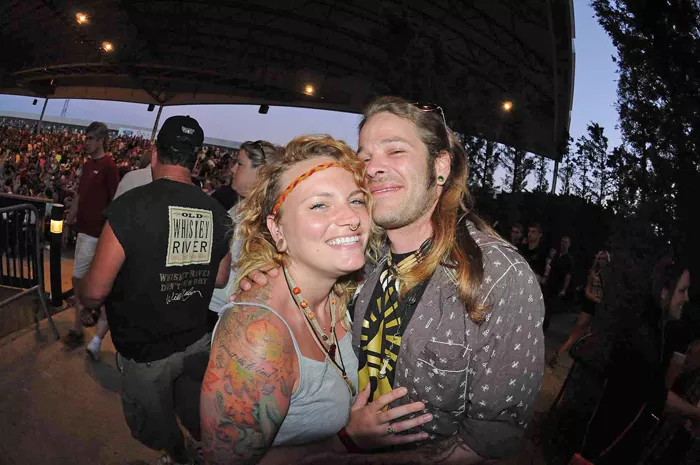 Zoomance is in the air
We can all remember going to the Detroit Zoo as children. We were bewildered by the size of the elephants and terrified by the fierce lions. Now the zoo has figured out a way to give us that feeling back as adults at its annual Summer Zoomance. Last Tuesday night, the zoo was alive with those 21-and-up at this after-hours event. With drinks in hand, guests wandered around the park, regaining that childhood feeling of awe for the Detroit Zoo's spectacular collection of animals. Guests enjoyed several locally brewed and domestic beers, as well as cocktails and a whole host of nostalgic park foods. In-between handfuls of Detroit Popcorn they were also treated to a live musical performance alongside the Rackham Fountain. Some were even so lucky as to be able to feed the giraffes at one of the night's animal enrichment programs. All in all, it was a fantastic night for everyone in attendance. With great weather and exciting entertainment, it made for a fresh way to spend a summer night. For those who were not able to attend, don't worry: There will be a second Summer Zoomance Thursday, Aug. 21!
'On the Road Again'
Outlaw Country legend Willie Nelson, and his touring and recording group Family, performed a sold-out show at Freedom Hill this past Sunday with special guest Alison Krauss & Union Station, and Jason Isbell. Willie Nelson, one of the most recognized artists in the world, just released his 68th Studio Album entitled Band of Brothers in June. Wow! Not only does Willie make sweet country music, he's acted in more than 30 films, co-authored several books, and is a well-known activist for biofuels and the legalization of marijuana. Willie sported his signature two long braid hairstyle and happily played his famous worn-out guitar named "Trigger." He performed a few hits off the new album and, of course, a bunch of famous classic hits we all know and love, including "On the Road Again," "Whiskey River," and "Roll Me Up And Smoke Me When I Die." The party could definitely be smelled out on the lawn, where we sang aloud, danced, laughed, and cried … and we left the show feeling quite happy, with our new Willie Nelson Beer Koozies.
Creation: Vending veggies
Red Bull Creation, an annual competition that brings together the country's best makers, doers, hackers, and builders, came to fruition at the Recycle Here facilities in Detroit this weekend. While three Detroit teams participated, i3 Detroit, Detroitus, and OmniCorp, it was ultimately a Phoenix-based duo that won the competition. The Maker Twins pieced together a special vending machine that deals only in vegetables. The machine works via a digital app to deliver fresh vegetables in a farmers market environment. The competition's judges included Caleb Kraft, community editor of Make magazine, Mike Szczys, managing editor of hackaday.com, Detroit's own Tyree Guyton of the Heidelberg Project, and Greg Needle, director of the Innovation Gymnasium at the Lyle School of Engineering. Mike Murray of the winning team noted his love for the competition and the city in which it was held, saying: "We're thrilled. This is a great venue, we love Detroit. All the teams were so great to work with. This really is an un-competition."
Fucked up with weed
DDAYS trekked out to the Loving Touch in Ferndale on Friday to catch Toronto-based Fucked Up, out in support of the band's latest release Glass Boys. The much-praised punk group — literally — brought along Weed, a four-piece band from Vancouver that seems to worship '90s grunge as much as it does Dinosaur Jr. Fucked Up with Weed. After a few too many drinks, that alone had us laughing. As expected, by the time Fucked Up took the stage, the room was packed — a far cry from the band's Detroit gigs at the 2500 Club to roughly a dozen people. The band mostly stuck with songs from its acclaimed David Comes to Life and new cuts off Glass Boys, but toward the end of the set, they tossed in "Father the Son," the lead track off 2008's Chemistry of Common Life. Unexpectedly, during Fucked Up's classic "Police," a couple pals of DDAYS lifted us above the crowd for what amounted to a 45-second crowdsurf. For a brief moment, we awkwardly soared above the Loving Touch room, and it was splendid.