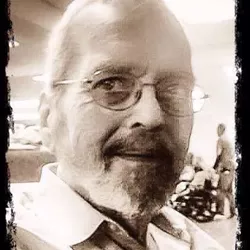 Detroit-based writer Richard C. Walls died in hospice care over the weekend. Walls was a longtime writer for
Creem
, and reviewed films as recently as 12 years ago for
Metro Times
. Onetime
MT
music editor Bill Holdship wrote these words of remembrance and gave us permission to share with our readers. We present it along with our condolences to Walls' family and friends.

On my very first day of employment at
Creem
magazine, Susan Whitall and Dave DiMartino sent me on a journey to deliver a review album to Richard C. Walls' house. I'd read his byline for years — I do believe (at least I was frequently told) that he was the only writer to appear in both the first and the final issue of the magazine — and so he was the first
Creem
freelancer I met in person after becoming part of the magazine's editorial staff.
Metro Times
) and TV (he had a column, Prime Time, about the latter in
Creem
).
After I inherited the record reviews section from Billy Altman in the '80s following Arnold Levitt's cost-cutting changes, I couldn't wait to give RCW various albums to review every month. It was always a treat to talk to him on the phone, discussing everything from SCTV to politics to the latest punk rock releases. He never turned down any assignment and I always knew that whatever it was, his words would be great. I remember I was so excited when he agreed to take on the Replacements'
Pleased To Meet Me
album — which we made the lead review that month (with the headline "...And The Gods Made Love") — and he wrote a rave. As I said, the guy was always on the money, although maybe that's just because we agreed on most things.
I talked to him a few times after returning to Detroit in 2007 and tried to get him to do some writing for us at
Metro Times
. But there were some problems due to his disability status and it never came to pass. It was sure good to talk to him again, though.
Creem
was being published out of New York City (it didn't last long) and the editor — I think his name was Chris Nadler — commissioned old
Creem
writers to write a remembrance of the original magazine in every issue. The one that Richard wrote was arguably the very best — like I said, he was there from the beginning through the end — and I'll always remember his description of me in his article as "the most optimistic and happy severely depressed person" he'd ever known. Some would say that might be the best description of me ever recorded on paper.