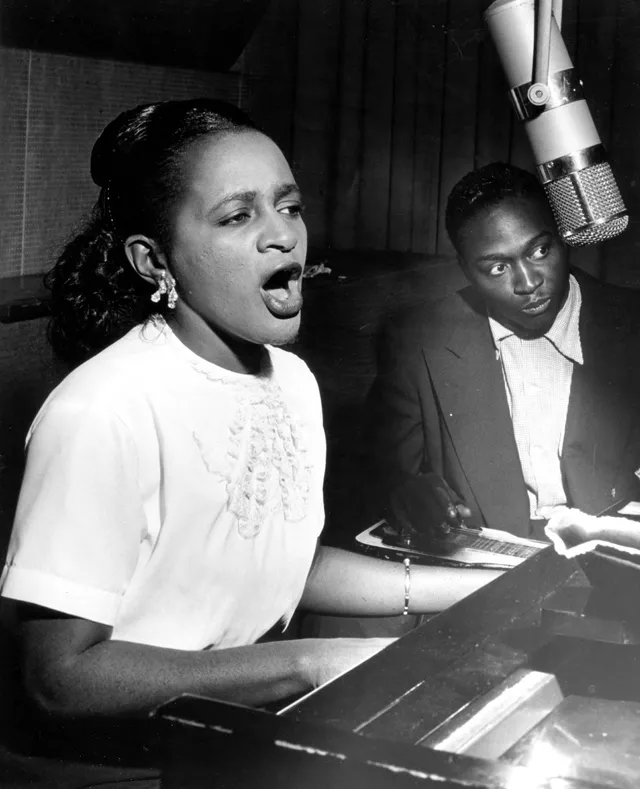 Rejoice and Shout
GRADE: B-
"Black Gospel Choir Makes Man Wish He Believed in All That God Bullshit" —Headline in The Onion
This by-the-numbers documentary is too long, too dry, too unfocused and, dare I say it, too vanilla. But, oh, the voices.
Listening to a soundtrack filled with the heavenly pipes of the Soul Stirrers, Mahalia Jackson, the Blind Boys of Alabama and an endless list of little-known gospel pioneers is more than just compensation for the heavy-handed proselytizing and affirmations of faith that intrude on Don McGlynn's Rejoice and Shout. And intrude they do, as Christian devotion is held up as the main motivator for all those magnificent performers. Of course, for all the praises interviewees heap on the Lord Almighty, few examples are given of what good deeds were inspired by that divine love, and too little is made of the ego clashes and rivalries that developed between gospel singers.
Instead, McGlynn unconvincingly claims it was all about the religion and music. Luckily, it's the music he mostly focuses on. Presenting an incredible mixtape introduction to gospel, Rejoice and Shout culls images, recordings and performances from hundreds of hours of archival footage. The result is a decades-spanning concert film that makes up a full hour of the movie's nearly two-hour running time. From the very first 1902 recording of the Dinwiddie Colored Quartet to the professional gospel performers of the '60s, McGlynn breaks from documentary tradition by letting these glorious songs play in their entirety. Raw energy, impassioned vocals, and infectiously foot-stomping performances chronicle the music's evolution, and it's hard not to be swept up in the singers' unbridled joy.
Unfortunately, Rejoice and Shout's historical anecdotes, talking head interviews (which include scholars, clergy and such musicians as Smokey Robinson) and constant need to affirm its Christian faith are far less inspiring and enlightening. Moving chronologically through history, McGlynn connects gospel music to the African-American experience in only the most superficial ways. His examination of sociopolitical and cultural context is spotty, the oral histories are shallow, the differences in church worship nonexistent, and attempts to show gospel music's impact on American popular music are nominal at best. (A cursory nod to hip hop artist Kirk Franklin is the film's sole modern concession). Worse, McGlynn gratuitously inserts Martin Luther King Jr. and Barack Obama as black leaders dedicated to Christian teachings and devotion, when their focuses were and are more secular in nature.
From a technical standpoint, the documentary's yoyo-ing between oral and aural presentations is haphazard and shapeless. Rousing musical numbers are too often followed by unrelated interviews. More annoying is McGlynn's decision not to identify many of the incredible clips he presents, neglecting to caption dates, television programs and, sometimes, even the performer's name.
Even with these basic filmmaking faults, there's no getting around the incredible power of the human voice when it expresses itself through song. Whether its Sister Rosetta Tharpe's self-taught compositions or the Staples Singers' civil rights-inspired folk or the remarkable falsetto of Claude Jeter, Rejoice and Shout presents a long list of talented and complicated figures in the gospel world. And even if McGlynn's shameless preaching doesn't convince, their fervent performances will make a believer out of you yet.