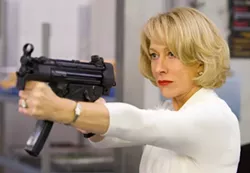 My God, Helen Mirren sure knows how to class a joint up — even if she is toting an automatic weapon. And much as I would love to say that her supporting role is enough to make German director Robert Schwentke's (The Time Traveler's Wife, Flightplan) geriatric actioner an E-Ticket ride, it just ain't so. Yes, there are deep delights in watching Morgan Freeman, John Malkovich and Mirren kick high-caliber ass (though far less than you hope). And, yes, Mary Louise Parker is an eccentrically joyful addition to any movie she's cast in. But there's no getting around the fact you've seen nearly every aspect of Red before in other, better films.
Your first clue is Bruce Willis. Seriously, does this guy ever turn down a part? As former black-ops CIA agent Frank Moses he pretty much sleepwalks his way through his tough-guy super-spy role, adding just enough deadpan naveté to separate it from the last dozen times he played the character. Still, credit should be given where credit is due —Willis acts his age for a change (55), with 46-year-old Parker falling just inside his romantic ballpark.
Living alone in quiet retirement, Moses leads a tidy suburban life where the highlight of his day is the flirtatious phone call he shares with Sarah (Parker), a government clerk who is looking into his "missing" paychecks. Unfortunately, a high-tech hit squad shows up to spoil things and Moses kidnaps Sarah in order to keep her safe. Hooking up with fellow retired CIA hit-men pals — Freeman, Malkovich and Mirren — he discovers that they've all been targeted for assassination, having witnessed a prominent politician do some very bad things a long time ago. Leading the attack is a CIA dragon lady (Rebecca Pidgeon aka Mrs. David Mamet) and her bad-ass enforcer Will Cooper (Karl Urban).
RED (which stands for Retired — Extremely Dangerous btw) is in the same league as last summer's Knight and Day or The Losers, occasionally amusing but never thrilling its audience. The film mostly exists as a showcase for its cuddly but murderous old Oscar winners. From nursing home to hermit outpost to stately manor, Willis and Parker roadtrip across the United States gathering up the elderly assassins to break into CIA headquarters, shoot big guns, and allow these fine actors to fatten their bank accounts (I hope 90-something Ernest Borgnine earned a year of mortgage payments for his cameo).
With the right amount of action razzle-dazzle and smart writing, Schwentke's flick could've been popcorn-flick homerun. Instead it's passably entertaining but ultimately disappointing. The hows and whys of the plot really don't make a whole lot of sense as Jon Hoeber and Erich Hoeber's uneven, uninspired and utterly conventional adaptation of DC's graphic novel gets progressively less interesting as it goes along, discarding its greatest asset — the killer fogies — along the way. The overall tone is dark and humorous, filled with the kind of sprightly paced, lighthearted violence that's supposed to evoke chuckles but mostly seems under-heated and over-loud.
While no one embarrasses themselves, Parker is the only one who comes off as a clear winner, creating a quirky and engaging character from thin air. Though the writers and director do her no favors, she not only finds chemistry with Willis, she seems to be acting in a funnier, more exciting film than the one we're watching on screen.